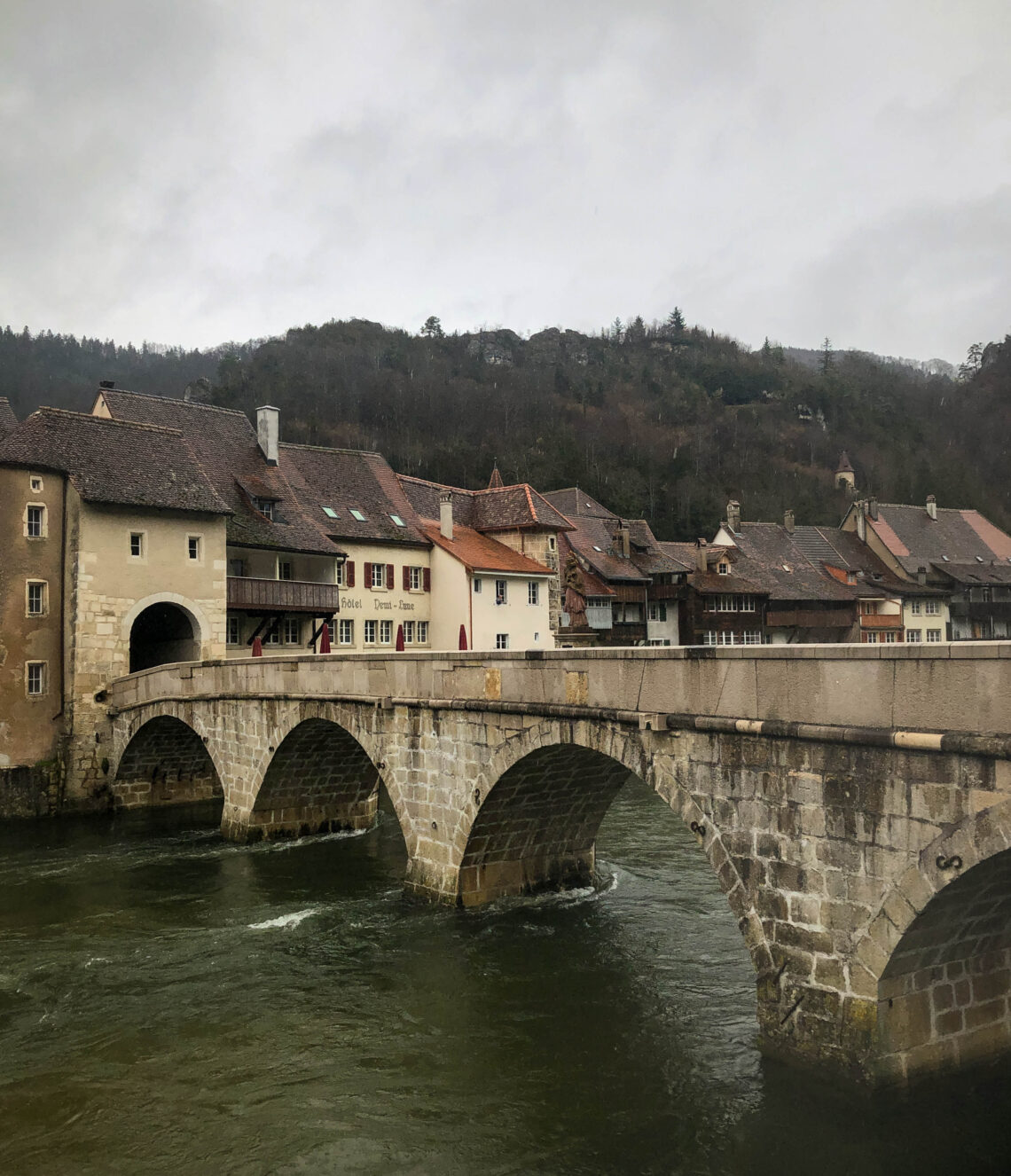 It seems there were no architects before the 18th century.

That isn't quite true, but in going about France and Switzerland looking at buildings, it is starting in the 1700s that I see them attributed to architects. And yet, a high percentage of tourists prefer to seek out the anonymous places that weren't designed by anybody in particular. I am one of them. The feeling of being in a place where the buildings evolved according to the needs of the people and the traditions of styling local materials is very special to me. Certainly I will agree that maybe being inside the newer buildings is often more enjoyable, simply because the windows got bigger, but I am not sure.
Yesterday I headed out north and west toward France, and the Doubs river again, crossing it this time at a town called St. Ursanne. It has a bridge built over the Doubs by the Romans, which was a big deal at the time because there was no place to cross for a lot of miles due to the steep canyon, and the swift, full, and cold river. I was thinking of the Romans conquering the Helvetii, a Germanic tribe who became known as the Swiss, and which made such a difference in history.
I then entered a tunnel that was almost 2 miles long. Google Maps had not mentioned it, and the opening looked modern and a bit ominous. Then there was a 1 second break into open air, and my Google Maps lady is saying "turn left." Ok. First, I'm on a four lane, divided freeway, and second, if there was an exit, it was past in a flash and we were in another tunnel, this one about three miles long. Unbelievable. I come out and then we go through what, five more tunnels? There was about six or seven miles of tunnel in all until I could pull off and turn around, thanks to some help and encouragement from a young French-speaking lady at a Swiss convenience store.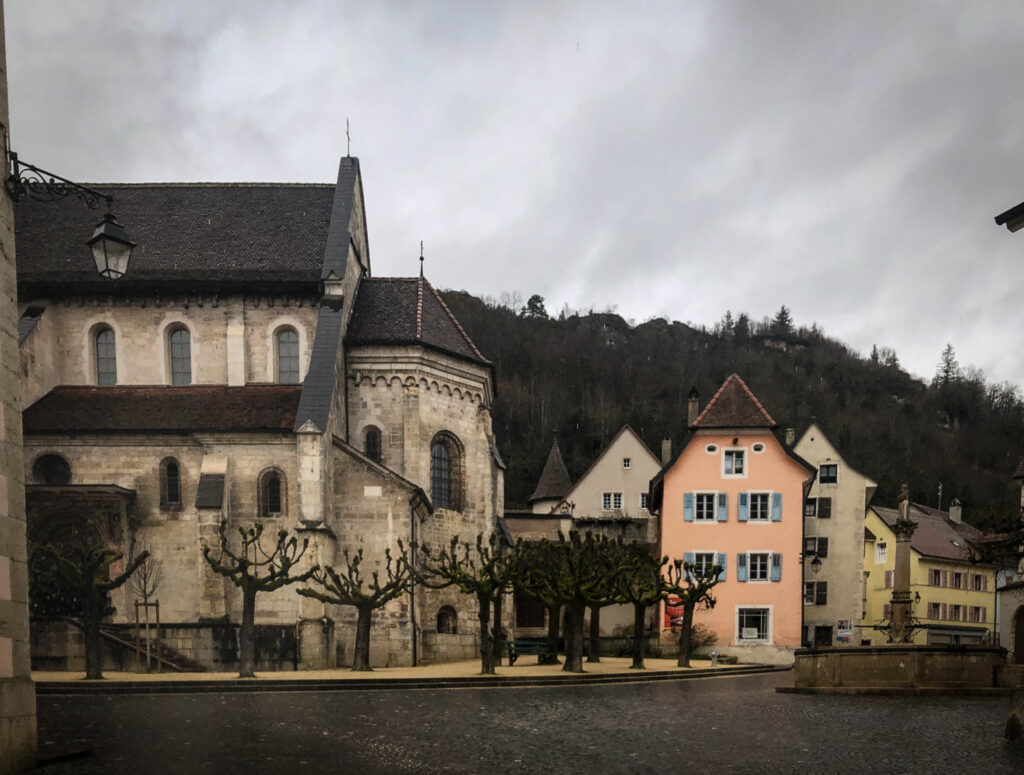 It was worth it. In summer weather St. Ursanne must be heavenly, but at least now there were almost zero people in the streets. There were few lights on, except at a little coop grocery right at the village square, by the fountain. Driving slowly by on the cobblestones, I could see bananas through the window, which startled me as I think I was under the spell of this completely medieval village, isolated in the river canyon.
It felt nice to enter France again, and the region of Lorraine was full of beautifully wooded hills, though bare of leaves. I took a back road along the Moselle River, or along the Canal d'Est, which parallels it. It is like the Burgundy canal only in the East (Est). It was lovely and lightly rainy.
Nancy is perhaps a bit smaller than Dijon, but also the former seat of powerful dukes. I found the hotel, and a parking garage.  It was clean, well located, and very cheap. I then walked to find a place to eat, with a nice menu du jour. This is something all restaurants have, that have sit-down service. I mean, I did pass a KFC on the way, but cannot understand why they are here. Anyway, the menu is the best deal, and you get a starter dish and a main dish and a dessert or cheese plate, for one set price.
Choosing amongst the starters, I saw a salad of something in confit, but I didn't know the word. I asked the waiter what this thing was, and he said it was from a volaille, a bird, and he pointed at his stomach. Well, it wasn't tripe, which I hate, because I know that word, so I said sure, I'll try it.
When the salad came I looked at the meat on top of it and thought, oh please tell me it isn't kidneys. But I know the word for that too. So I took a bite, and it was delicious. Very tender, very flavorful, mild, of course rich with confit fat.
So I'm eating, sipping a Lorraine white wine, eating bites of baguette, and thinking. Finally I get an idea. So the waiter comes over and I said it was delicious, but I still didn't know what I was eating. So then he finally tries English, and says it is wizards. And I thought "I knew it!!" Gizzards? Yes. I didn't know you could make them so tender. It would be a worthy project to find out how to make confit of chicken gizzards, because they are good.
After dessert I wandered around and took a look at the Place Stanislaus, listed as a UNESCO site. It was built in the 1750s, and yes, has just one architect. Emmanuel Héré. He has a bronze statue here in his honor. I came and looked at it again in the morning, then went to the Starbucks.