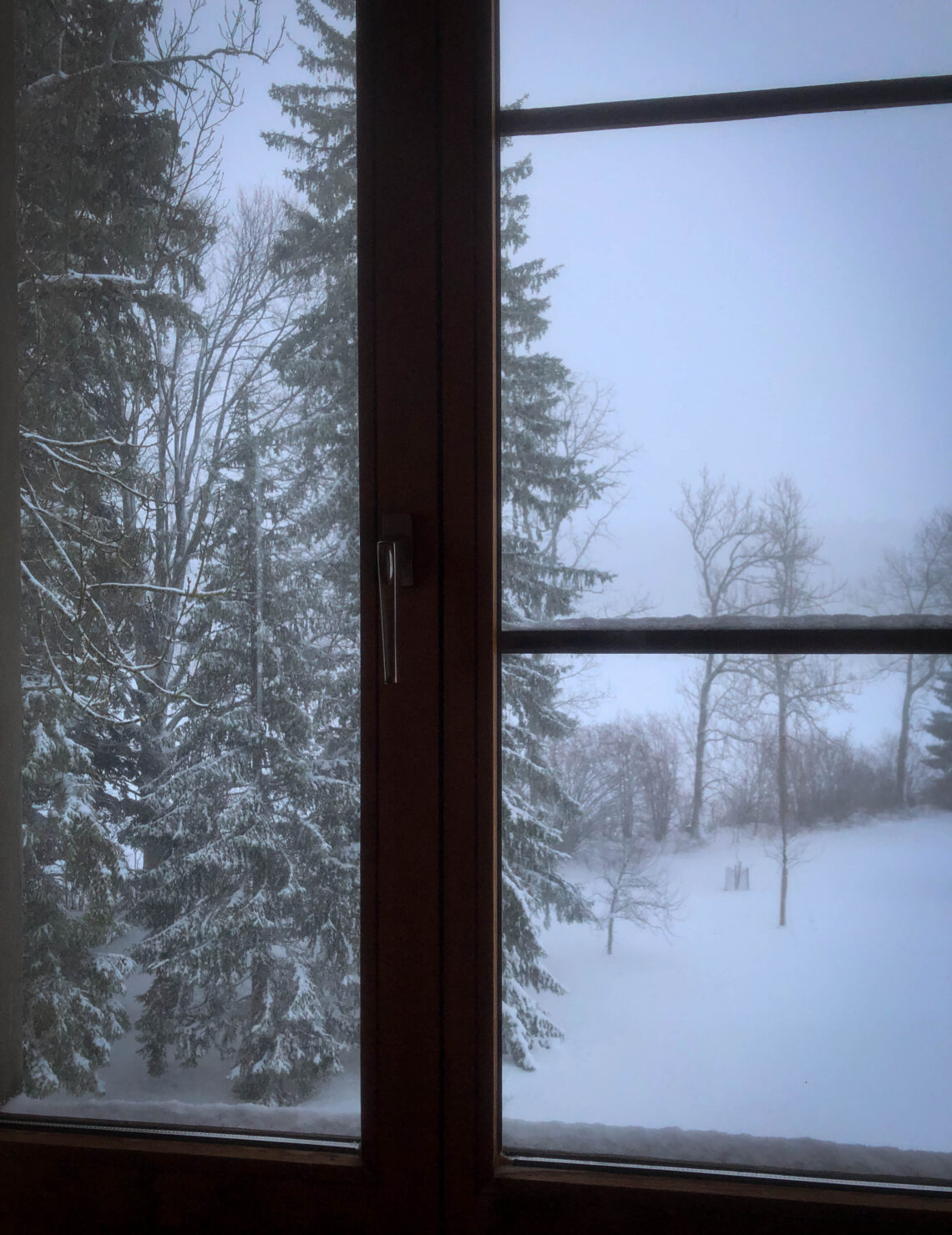 Not in the Alps, but still woke up to this!

It is very rural here, and the crossing into Switzerland across the Doubs River was remote and mysterious, with snow beginning as I climbed up into the French Jura, and blowing sideways. Once I crossed the River Doubs into Switzerland, the very steep and twisty roads were almost no better than goat trails. No guardrails, no shoulder, nothing. Tiny little wide places every so often so that if cars approach from opposite directions one can give way and wait. But if you were driving an American pickup truck, I am not sure there would be room even then, and then what? Back up, and just drop off the cliff?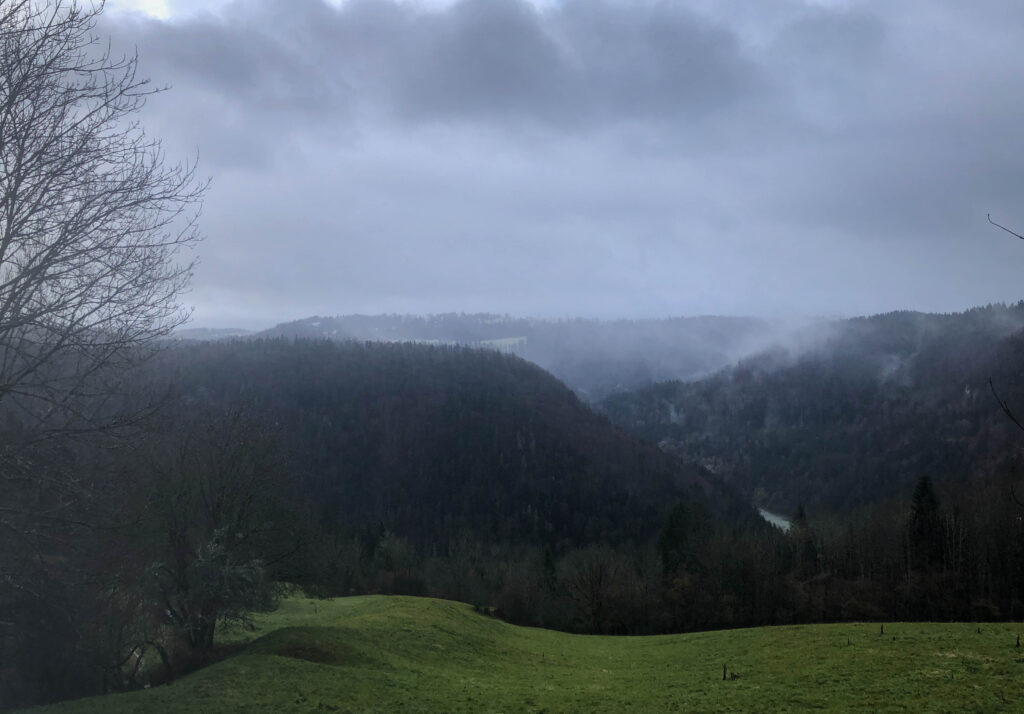 This entry will be for two nights, as I took a little break. Yesterday was a needed easy day on this high plateau on the edge of cantons Berne and Neuchâtel. Turns out the Mennonites were given permission to settle over in the western part of Switzerland as long as they settled areas over 1,000 meters in elevation.
There are also a lot of forests of a sort of fir tree, I think it is, sapin, that is very similar to the Douglas fir, but a bit droopier and lacier in its limbs. Of course I don't know what these look like when they achieve the old growth stage, because they seem to almost never get quite that far. There is a lot of firewood stacked up in these parts.
But Gabriela says they buy it, from where I have no idea. Poland? She was my hostess, the proprietor of Hotel de la Chaux d'Abel, a nineteenth century inn that felt in the middle of nowhere. The thing is, the Swiss have so much money that they could easily import firewood. I said I thought they must manage woodlots, but she didn't seem to think so. But she said the government pays the farmers,  rather well, I imagine, to make the land look nice and tidy and pretty. She said otherwise they wouldn't, which explains everything. Farms often look like hell in the States, and I always figured it was because they had too much work to do to take the time and effort to make them look pretty. But if you are held to a high standard, and paid for it, that's altogether different. Then they farm too, all very traditionally, but don't have to make as big a profit. Cows, cheese, whatever your great-great grandparents might have done.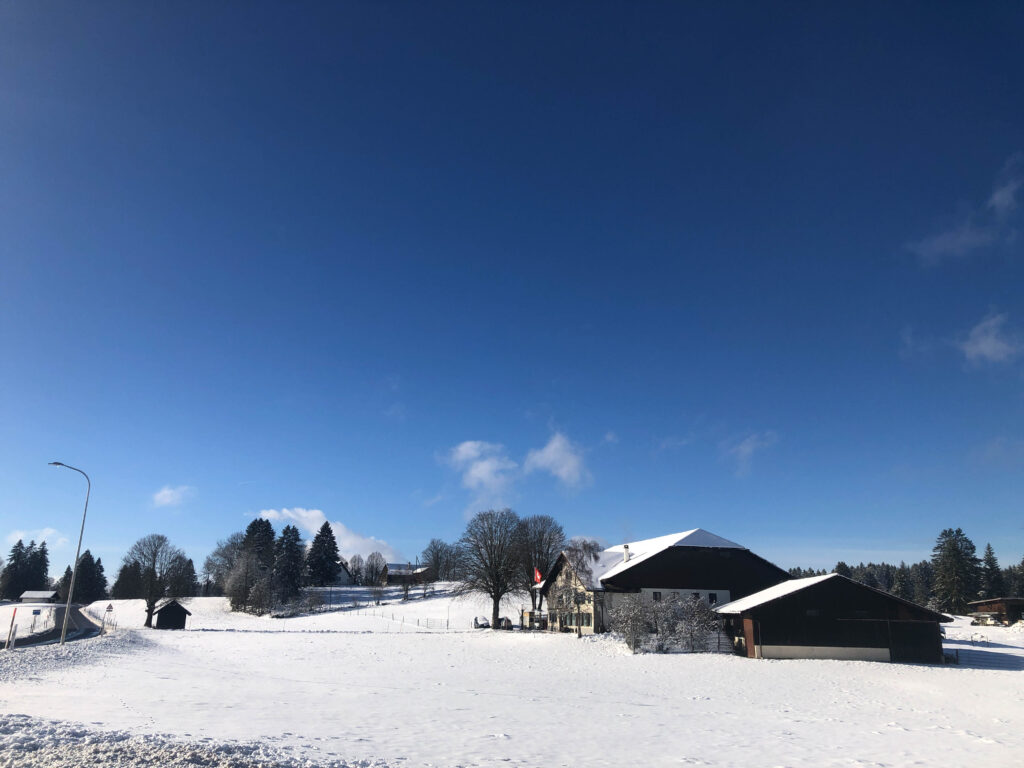 There are two fromageries, cheesemakers, very close to here, and the cows were all inside at the one I looked into. They had maybe 12 or 15 big reddish-brown and white ones, who all stared at me very curiously. I could see their bells outside the door, hanging in a row by the wide leather collars they wear when they are let out to pasture in the spring. It seems real, so dignified, but is not quite. It is perfect. Note the Swiss flag.
Cheese is a major part of their diet, of course. Last night Gabriela made a cheese fondue, and as far as I'm concerned, it was the definitive cheese fondue. She said you can buy mixes, of four kinds of local cheese and some sort of starch, and then she added good white wine and a generous amount of good kirsch, and several whole cloves of garlic, which we then fished out and ate. She puts in a little black pepper, but likes to grind a bunch onto a plate and then roll the dipped bread in it. So I did too, and wow. We had red wine and a salad of a sort of green that she had just harvested from her garden, under the snow. We never did figure out what the green is called in English. It seems a bit like escarole, but thicker leaves, but thinner than cabbage. It is slightly bitter, very slightly, and not cruciferous-tasting. She said it is called 'sugar hat' or something like that in German.
We then had the Swiss plum schnapps that she said legend tells is made from a kind of plum brought back from Damascus by the Crusaders.  All by the fire, with the fondue pot between us, in the old wood-paneled salon, painted a cheery yellow, with white trim. No charge for the food, as we ate together.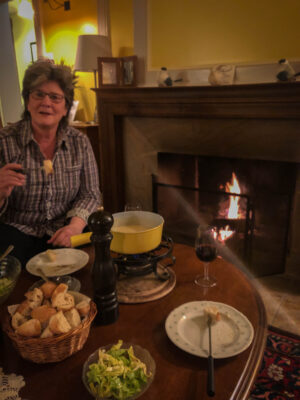 I mentioned snow, and yes I woke yesterday to a snowy landscape, about four inches. But it is the first, and it is due to the lack of it that I was the only guest. She had planned to close the inn for the week, but kept it open after I called. Beautiful and sunny weather took over late morning, and I went down the road a little to see the place my great-great-great grandfather David Ummel-Stähly had, where he had built a school, and later a Mennonite chapel was built.
 The evening before, I called a man who is a Mennonite minister. A possible relation, named Michel Ummel, who is also a historian. He was much more comfortable in French, so in that language told me he had looked to see how he might be related to David Ummel, but couldn't find the connection. He then very tactfully tried to explain that David and his group were known for being 'charismatic' and he then used a German word I could not understand, but sounded like 'binder' and means a sort of ecstatic vision that the Mennonites believe in. But he said not that, exactly, and what I think he was trying to say was that the guy was a religious fanatic to the point of sheer nastiness and unpopularity with the outside world. He kept saying that he thought it wasn't good for today's Mennonites to be so insular and shun the world. Which is what my ancestor apparently did, as he also built a school that was just for the Mennonites, so they could keep their German, and not get lost in the French Swiss culture. But now I see perhaps why my grandma was not raised Mennonite, after they came to the U.S. This was the father of Rosina Ummel Widmer, whose headstone in Iowa graces the title page back a bit in this journal.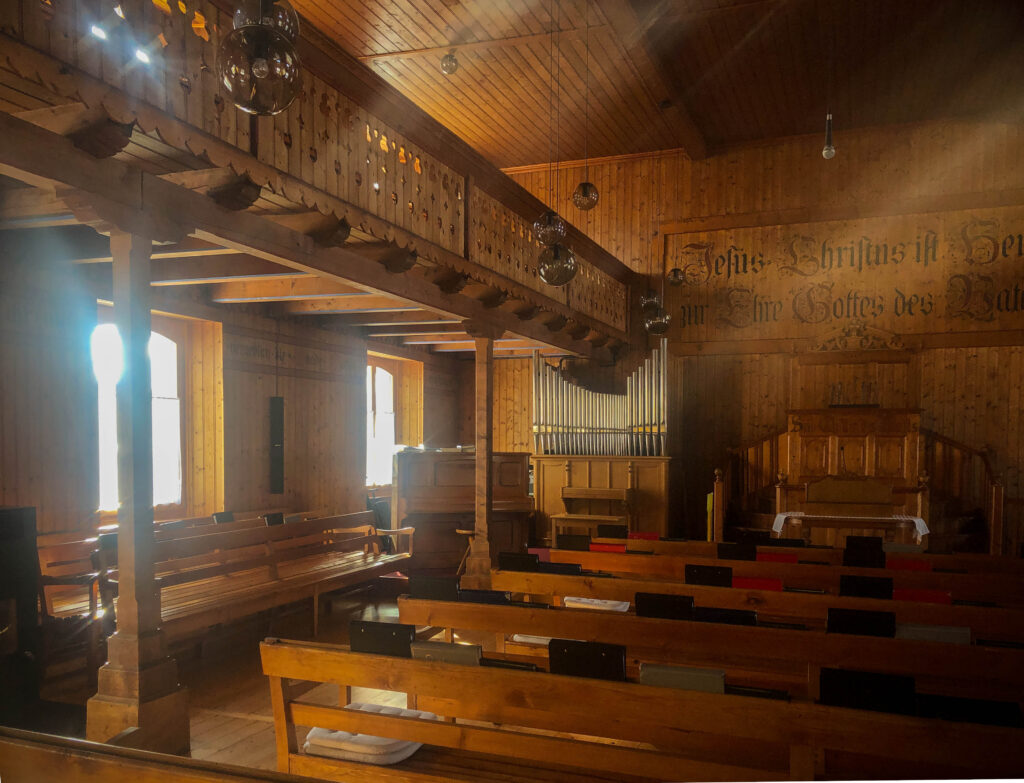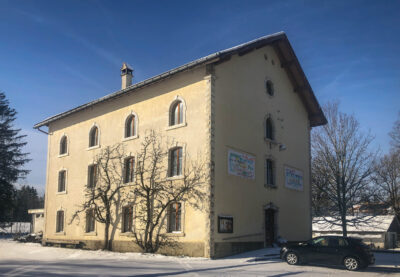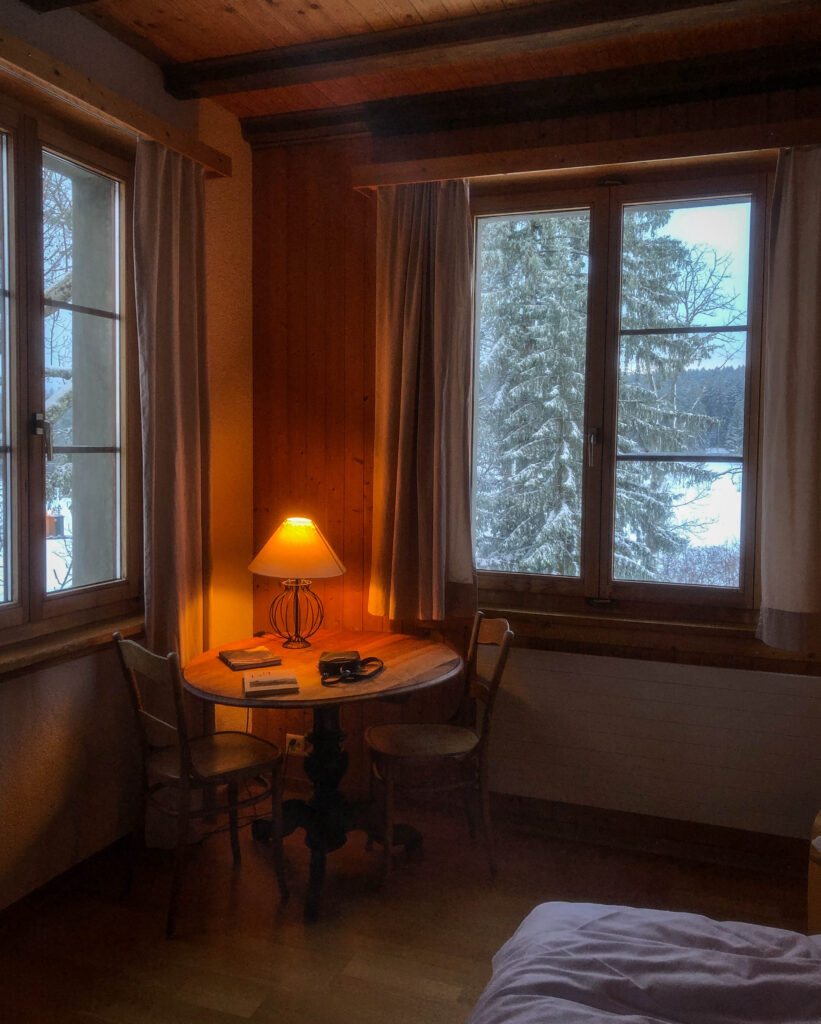 The road just before the church is called Chez Ummel, and there is a large house on either side of the chapelle that could have been the school. I figure the other house, probably at the end of the road, is where Rosina Ummel grew up. The church is used, and very modestly Swiss style.
I know more about my family history than I did before, and it's all on a more personal level than if I had spent a bunch of time reading in archives. Maybe next time. It was a very calm and restful way to make the pilgrimage, with the wonderful surprise of a native Swiss hostess who sees the last three years for the nonsense I think they are. We had a good time.
I enjoyed the blue sky and bright snow a minute, but then came back to my nice warm room and took a nap.
Before I left, I told Gabriela I would like to come back, if travel is still allowed, and if I have the money. She said she would then get me a work permit, then give me lots of time off to go exploring. I think she was sincere, what a nice idea. Who knows what the future holds?