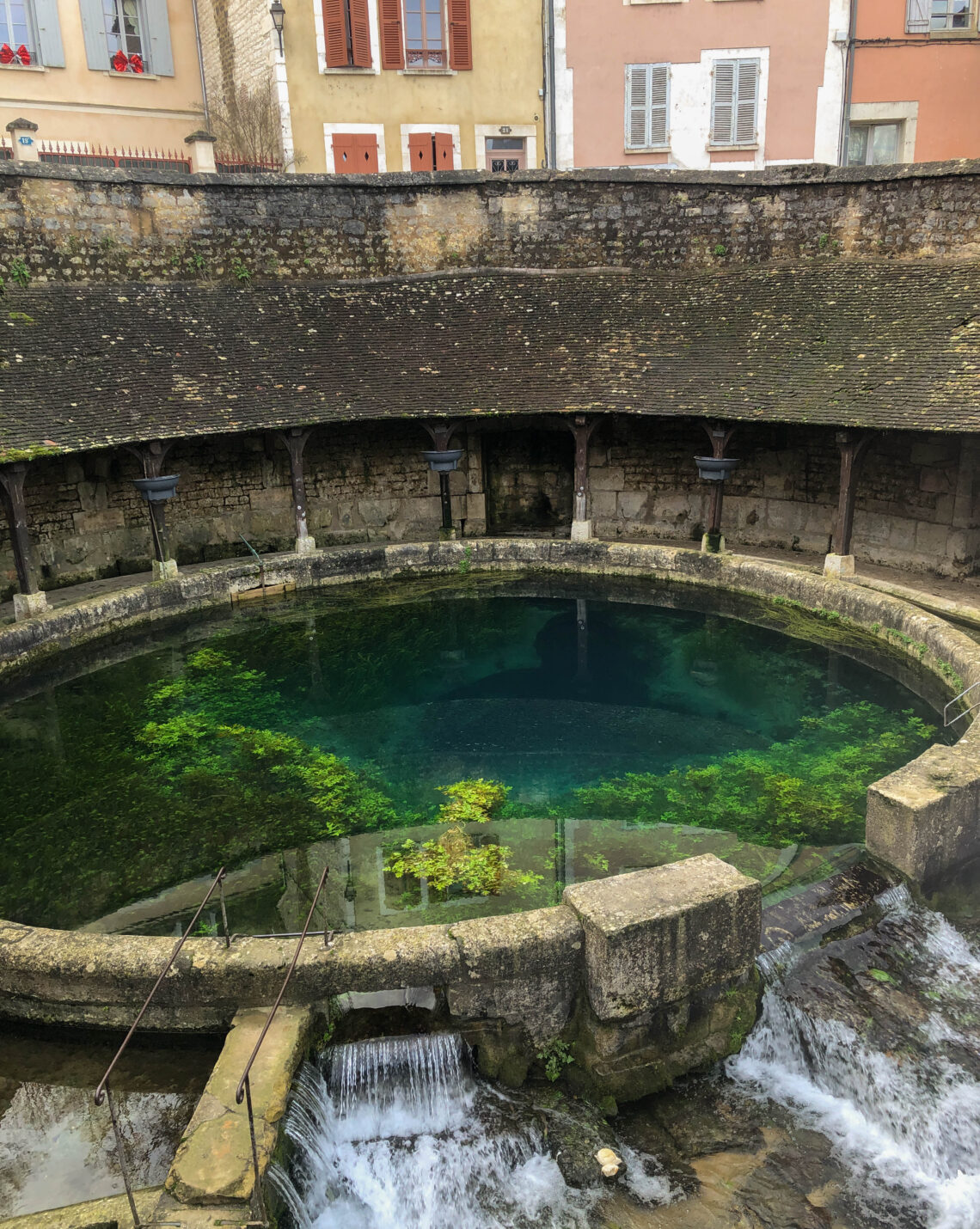 Reverence seems to always have been a human endeavor.
I was trying to make the most of my drive from Auxerre to Dijon, and serendipitously found the theme for today. I started out quite ravenous, not being on any kind of eat or sleep schedule yet. I saw the first town on the map was called Chablis, so figured I could get lunch and try the local wine, having seen plenty of that name at the Safeway near me. I was early for lunch, as the restaurants in France keep to a very strict schedule. You must eat lunch, which is a big meal, from 12:00 pm to 2:00 pm. After that, tough luck, they're all closed. Dinner starts at, usually, 6:00 pm. I popped into a likely looking place and made a reservation for noon, and then went for a walk. I meandered along a canal, then sat on some steps to soak up the almost warm sun on this brilliantly sunny day.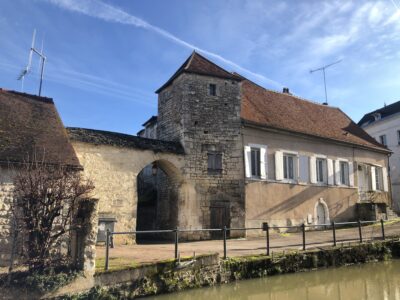 Lunch was the Menu du terroir, or traditional local dishes, and of course a glass of Premier Cru Chablis. What I enjoyed most was the fine, delicate, and subtle quality of all the food.  The ham not over salty, the sauce perfectly balanced. Just like the wonderful pastries from the place in Auxerre, light, fine, delicate. Even this traditional, rather rustic, rural food, captures what I suppose is the essence of French cooking. I find I am a bit tired of over-boosted flavor. Bienvenue, ma chère. And believe it or not, the food here costs the same or less than food in the United States. Even in the grocery store. How did this happen?
Then I drove to Tonnerre, a rather strange and eerie village at the base of a big cliff, that has a wonderful spring that emerges from its base, called the Fosse de Dionne. Dionne is a corruption of a word in Roman for 'divine' which I assume is a reference to a Gaulish deity that they say was worshiped there. Later, in the early 1700s, they built a lavoir there, which still curves around the spring, and where the village women did the washing for the village. Worship disguised in plain sight, if you will. The church fathers built a big cathedral on top of the cliff that looms over the fosse, perhaps to remind the ladies that Big Brother was watching from a superior standpoint. But folks come now to see the spring.
I loved the little systems of tiny canals that channeled the rapidly running water around the main pool, and the fireplaces that lined the curving walls under the old shelter, that were for making ashes to use as soap. The main pool fills with turquoisy indigo water, and then bursts out of the fosse and runs straight down through the village as a fully-fledged river. Nobody knows where the water comes from, and three men have died diving down into the hole to look, so they don't let people try it anymore. The atmosphere of cliff and water was chilly and dark now, in January, but must be lovely and cool in the summer.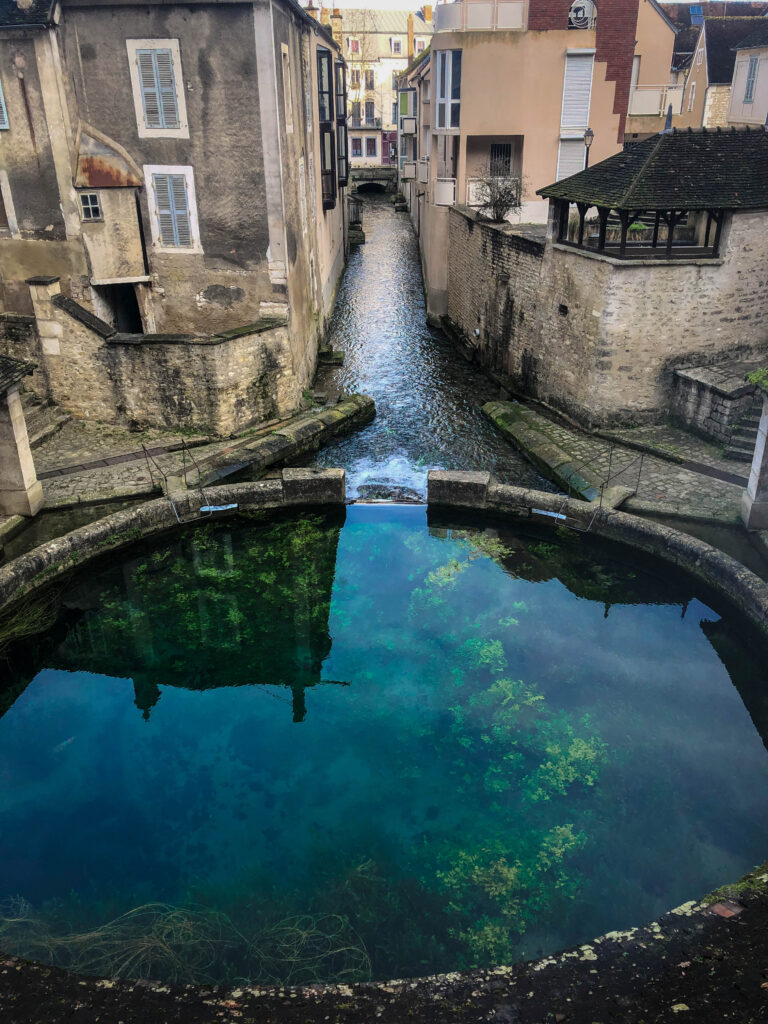 In which season France is clearly absolutely overrun with tourists. I can see the now-abandoned areas for lines and seating and can imagine all these places just packed with people. I had the Fosse all to myself.
Leaving Tonnerre, I soon turned off on a little side road and drove to where a little hollow in the hills cradles the Romanesque Abbey de Fontenay. It looks as if it hasn't changed since the year 1000. It is intact and in private use, and is the oldest built by Cistercian monks. I do not remember from my reading what sort of monkey-business they were up to in the early 11th century, and I just wrote, accidentally, 'money-business' and that is no doubt more accurate. They were aided and abetted (or is it the other way around?) by the very powerful Dukes of Burgundy, who came there to hunt in the surrounding forest and also kept their hunting dogs there, in kennels which still stand, attached to the awesome round dovecote.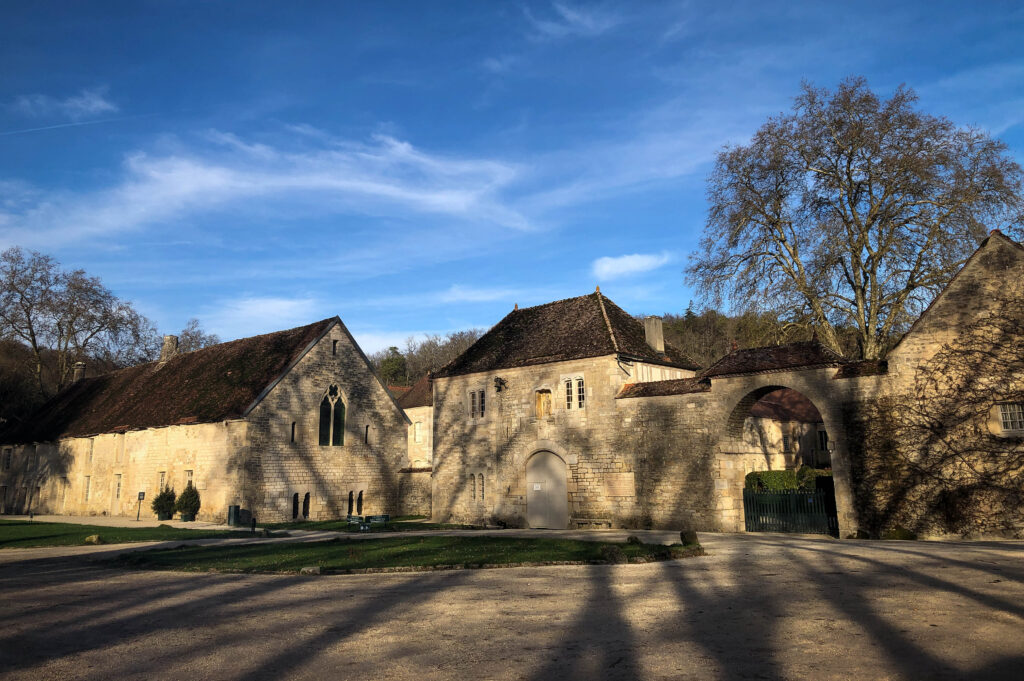 There was not a soul in sight when I entered the enclosure from the gift shop, just fountains splashing. In the severely plain cathedral there were a couple of people, as well as a striking statue of the Madonna and child that somehow survived the smashing vandals of the French Revolution. The altar area did not survive. The manuscript room was dark, as were all the indoor spaces, and I imagined the ascetic monks laboring over their work on those illuminated manuscripts, in the unheated rooms, like de facto slaves until they lost their eyesight.
But the grounds were pretty, with manicured paths and water features. It is a UNESCO World Heritage site, which is nice, I guess, if you crave validation from an organization created by technocrats that promotes a One World religion and the blending of all cultures in the name of more efficient commerce.
I then left for Dijon, zooming up and over a range of hills in my very zippy little gasoline-powered German-made Opel car. With a six-speed manual transmission, and extremely tight and responsive steering, it flew along roads that got smaller and tinier until I saw no sign of human habitation. Yes, I was living an episode of Top Gear, all alone there in Burgundy. And so far, from Paris, it has only taken a half tank of gas! I'm not criticizing her, but Janet would have taken a full one. Vive la technologie!
My sacred space is somewhere between the extremes, if possible.