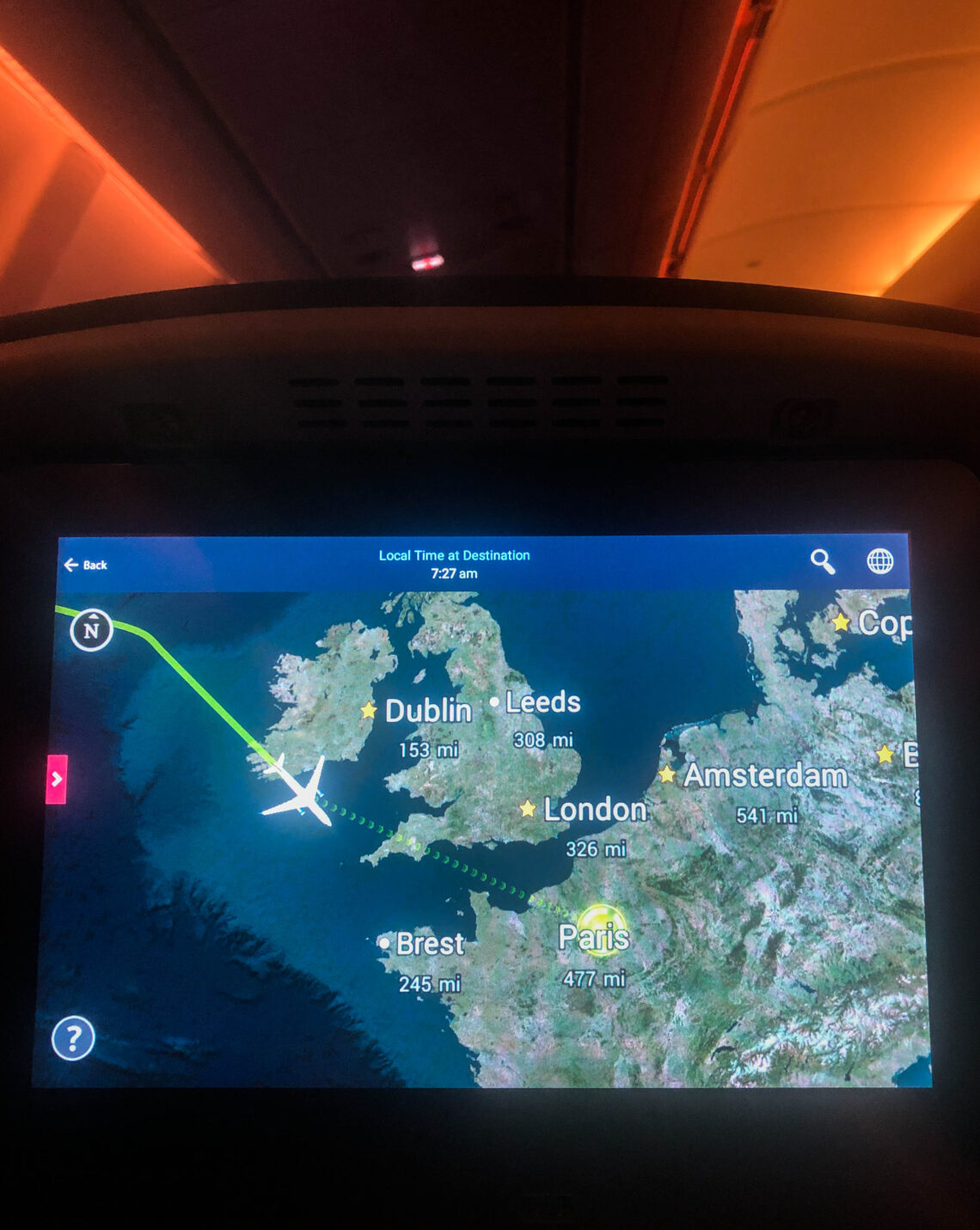 Yes, an excellent adventure that Janet cannot take me on.
But this back of a jetliner seat is the very unexpected culmination of four and a half years of dedication to learning French, and three years of a brutal indoctrination into the fear of international travel. After the first of this year, I am granted paid vacation time, and staying grounded has left me with more than usual airline miles on my credit card. However this would not have been enough, and the simple question of where I would go if I could go anywhere, posed by my research department, prompted an instant answer that led to more research, and now this. Maybe I'll get stuck here when a new international lockdown takes place. Maybe not. Eh bien. I've asked myself why I was studying French so diligently, because I would never go abroad again. One could dream, have un rêve.
So after more than twenty straight hours of traveling this day, a bit dazed, wobbly and with vision blurred by stress, I scanned my new passport, submitted to a forced facial recognition scan, and stepped out toward the rental car office at Charles de Gaulle airport, Paris. Note the time on the featured photograph.
I got my car, and after a very difficult time getting out of the absurdly designed parking area, I hit the freeways laughing with joy, because my fears of driving here, bad eyesight and all, instantly evaporated. I used the toll autoroutes to get as quickly as possible from the outskirts of Paris, and was amazed at how close the landscape looked to my Willamette Valley in winter. Same color palette, with bare trees and conifers, same low, grey sky and same misty drizzle. The country alongside the autoroutes (like Interstate freeways) was very open, very rich agricultural land, and very packed with high-tension pylons and lines, railroad tracks, industrial concerns large and small, even strip malls and terrible looking restaurants, many with pseudo-American names and themes. It all felt very Americanized, with needless use of English words. In the distance at one point were the twin cooling towers of a steaming nuclear power plant. Naturally, this being France, not Oregon.
It took many little adjustments, but I got comfortably situated at Hotel le Maxime, in the fairly charming village of Auxerre, France. I'm in a 'newer' hotel in the old centre-ville, I'm guessing built in the 1600s. It was offices and warehouse for a shipping business, here on the quay of the River Yonne. Fun to think it was built when charming Madame Sévigny was writing effusively to her daughter. I'm up in the mansard part, with exposed old beams and a double-casement window. The next morning, lying on my bed and looking at the sun hitting the flat edge of one of those beams, I thought that same sun has been hitting at that angle, that same beam, for 400 winter mornings.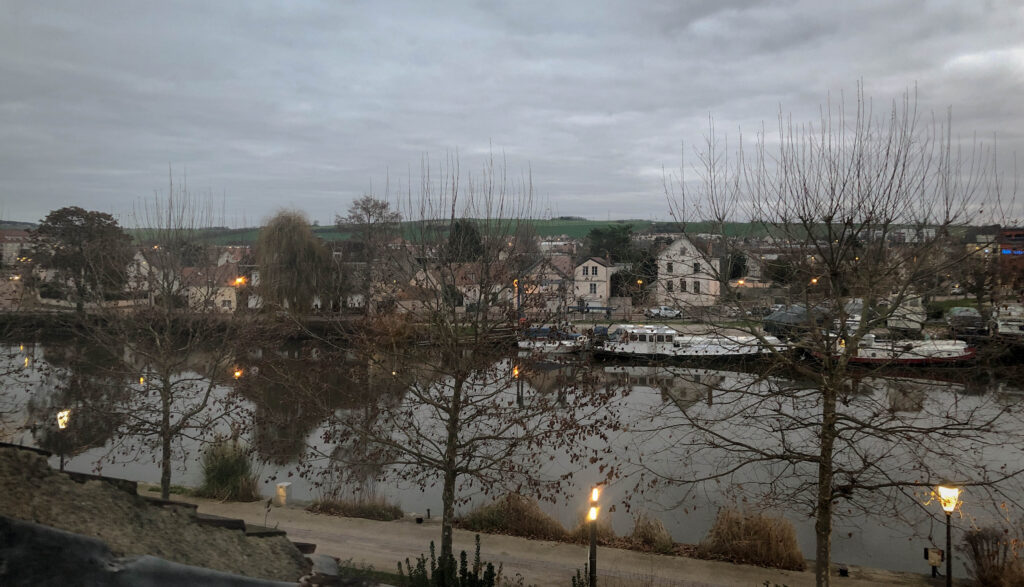 Up the hill behind me is the much older, medieval village of Auxerre, topped by a big church or two, and a square with a fancy clock tower. These old city centers are cash cows, and there were well dressed visitors looking into the high-end shops on the ground floor of half-timbered old houses from the 1400s. I suppose it's like spending a weekend in Aspen or Carmel for a certain kind of person. Not a very happy looking kind of person, I must say.
I chose to go into a fancy confectioner's shop, and a nice young woman explained to me that the cakes in the window were traditional Three Kings cakes, for Epiphany, which was that very day. She said the frangipani ones were the best in the world, made there. Thus I could hardly not buy a small one.  She also gave me a chocolate covered cherry, full of kirsch, that was hands down the best one I've ever had.
The puff-pastry on the cake was shatteringly crisp, the frangipani filling was beautifully flecked with almond skins and barely sweet, both creamy and fluffy at the same time. It also came with a gilt paper crown, apparently meant for children, as mine didn't fit. But clearly there is a conspiracy to break an unwary person's molars. The delicious chocolate cherry had a pit, which I bit down on hard, and as I was devouring my Three Kings cake in my room, I bit down hard, again, on a ceramic figurine of, what, a soft-serve ice cream in a pleated paper cup? Not sure of the symbolism, but too late I remembered the tradition of whoever finds a tiny figurine in their piece of cake has good luck all the year, after getting back from the endodontist.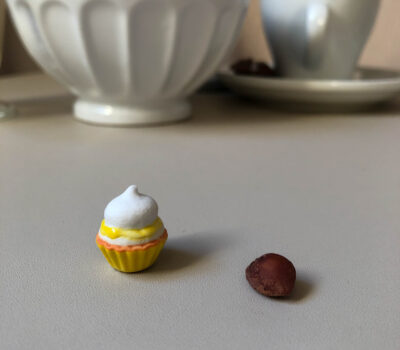 I think I have figured out the secret for having lovely exchanges with the French who help you, in merely four steps. 1) do not make them speak English, they mostly don't enjoy it. 2) Do not make them ask you to repeat yourself when you speak French 3) Do not require them to repeat themselves when they speak French 4) always use the expected list of polite phrases, in French. That's all!  I finally have arrived, not really at fluency, but at the level that allows me much more gracious exchanges. A major triumph, and one I have worked very diligently on since 2018. So, nearly five years. It has been a real pleasure.