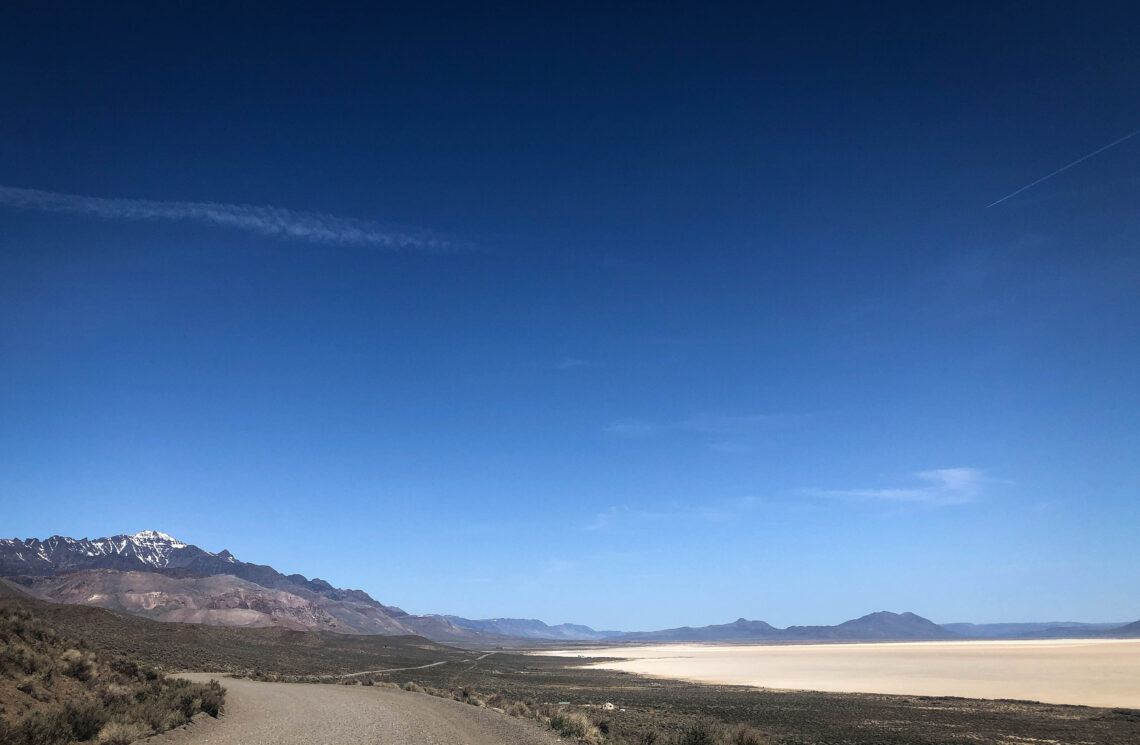 For once, limits and reason won over ideals and conquest.
My plan had been to visit two hot springs today, this and another far more remote. But I suddenly decided that there was, indeed, such a thing as an unreasonable number of miles on gravel roads, and that some things are not so much fun when done alone. So I must be content with rediscovering this place–and how has it changed in the last twenty-five years! Besides, I may have finally put myself out of cell service, and I have to text in sick again tomorrow morning.
After Frenchglen we climbed up and over the Catlow Rim, heading south on a changeless road past Roaring Springs Ranch, and then back over a pass with the Pueblo Mtns. on our right. Years ago I took my daughter bushwacking through those trackless mountains for her first backpacking trip, another questionable idea. But now they looked their best, decorated with artistic stripes of remnant snow. Time can make memories sweet that were once bitter, so hopefully that one will mellow into gratitude all around. Then we headed up the road that skirts the other side of Steens Mtn., a much steeper side than the one visible yesterday from the west. No cars, but still cell coverage.
Once we crested a rise and looked out over the Alvord Desert, I mistakenly thought that the springs were nearby. Since they had only been a concrete tank with some corrugated tin, I wasn't looking for much, and took the first well-traveled dirt turn off toward the dry lake bed. Well-traveled is relative, and it soon turned into a bit of a challenge. A mess of pits and ruts from the wet season, and incredibly fine, silty soil still slippery as silk. Janet came as close to tipping over as I've yet experienced, so it was a constant dance to keep from high-centering or tipping over until, voilà, we came out on the utterly flat lake bed. No springs. But a good photo op.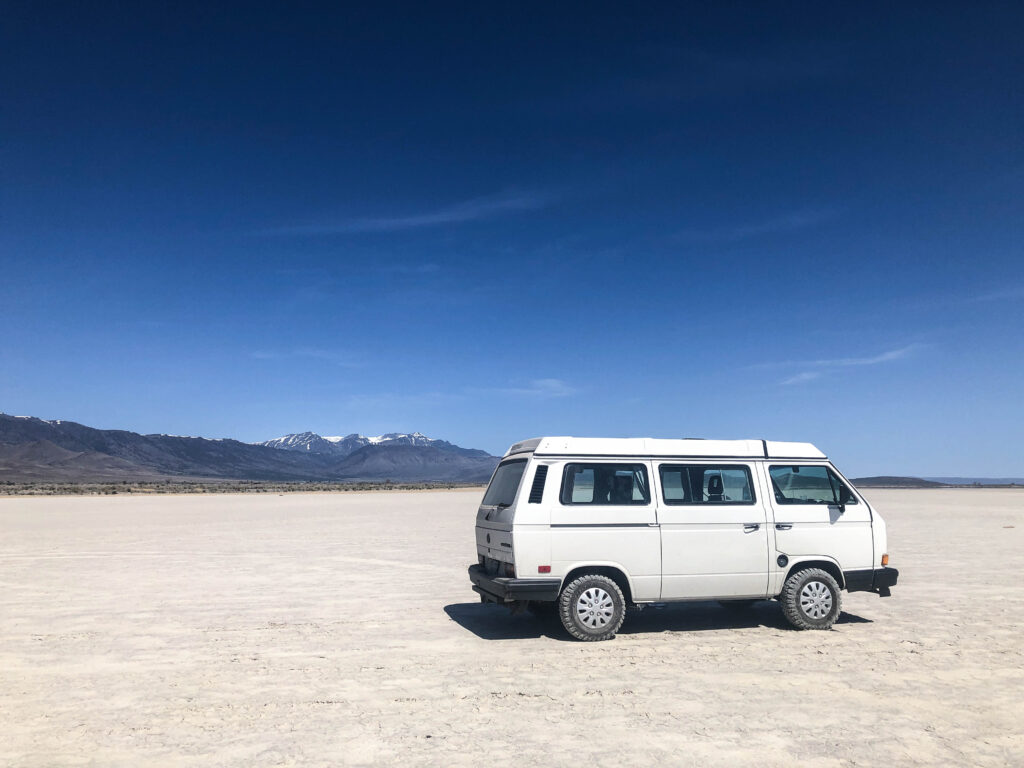 So a trip back up that road, credentials as 'not just a pavement princess' renewed.
As I was considering giving up, we came upon a spiffy roadside sign for Alvord Hot Springs, and people! The springs have wisely been left as they were, in their cowboy rustic charm, but there is a little office and store and bbq and a bunch of what look like military barrack cabins scattered out amongst the sage. I liked it immediately. A friendly couple from Tennessee lives here and runs the place, and thanks to the Burning Man acolytes drifting north and keeping the party going, it gets traffic.
Another nice couple had just arrived, and we all shared stories and perspectives. The hosts, who looked as if they'd formerly been a very handsome couple, lost two of their four teen-aged children in a freak car accident some years back, and yet seemed to have found strength enough to share with strangers. In the parking lot there was a skinny young man with his shoulders hunched up, very long hair and beard, and a very expensively tricked-out Sprinter conversion. He skulked near his van and chose not to interact with anyone, whilst his dog ignored his calls in order to stick around the camp store and bark aggressively at me. I contemplated giving it a big uppercut with my boot, or snarling viciously at its impotent owner. But I just stood there, being disapproving.  And yet, there is certainly so much to mope and snarl about in life, it being thoroughly unfair. Ask any formerly-handsome 50-something who, though in the cruel category of 'gone to seed,' keeps a vestige of their swagger.
I walked up to the springs, and they looked marvelous. I turned to go back to get shorts and a towel, and then thought of the host husband telling me that clothing is optional. I said what the hell, stripped naked and got in. Wow.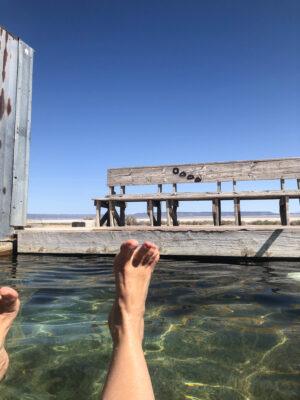 Truly heavenly. All alone, I watched the clear water roar out of the earth, gratuitously blazing hot. No towel necessary in the dry air. I planned to soak again after dark.
And chickened out. The walk over to the springs in the dark felt adventuresome. Within a judicious distance from the pools the trail lights stopped in favor of the natural desert night. The idea was to see the brilliant stars whilst soaking in volcanically heated water. I had the good luck to find the place deserted, the bottom shining clear in the moonlight. But the corners of the pool were all black shadows, and hesitating, I told myself that the moon and gathering hazy clouds made it not worth the stargazing. In truth I needed another soul to give me the heart to brave it. Back at Janet, I decided it was fine if I prefer to save it for sharing with another human being. That would make me very happy.
And I'm happy enough, here tonight in the middle of the sagebrush on the edge of the camp. As I was navigating that bad road earlier today, I'd had my window down, and what sounded like a meadowlark stopped by and sang me a little riff. The melody was so crisp and clear as a bell. It felt like a magic hello. A good day, without over-planning. Full of discovery.