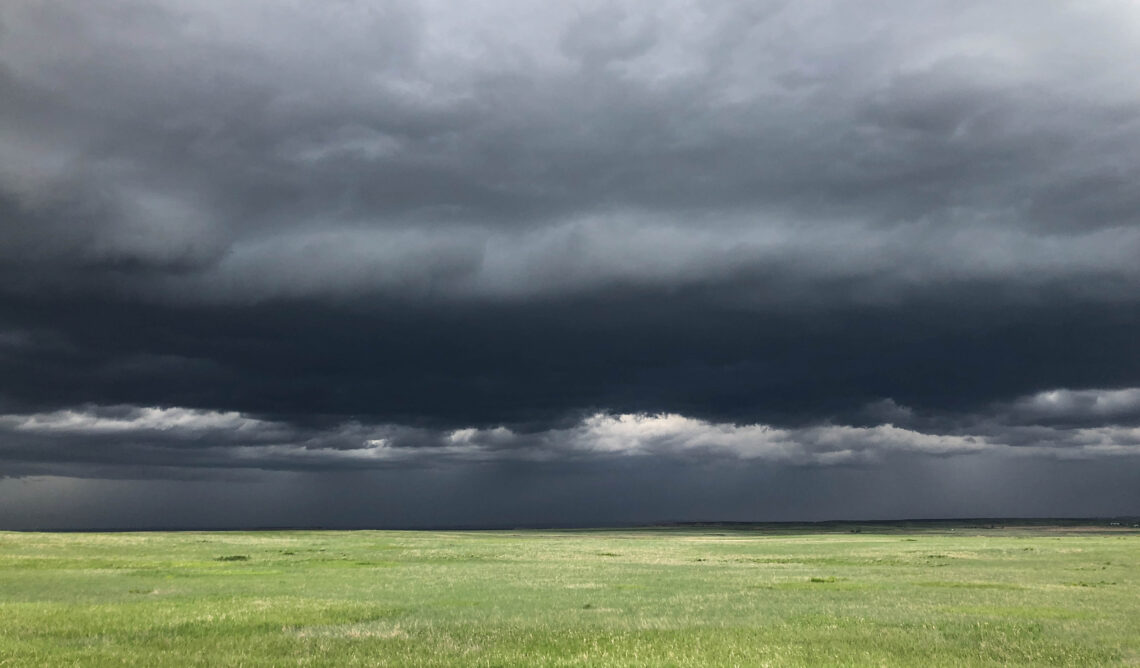 They're still here, and chased us to a rest stop in South Dakota.
A dull and grey morning, but the wind was steady and soft. Lying in the lower foldout bed (Janet has yet to have her top popped, due to cold and now, wind) near Moorcroft, Wyoming, I heard the very sweetest birdsong I can imagine. I have seen many of these birds that swoop and fly in front of you on prairie roads, and I wonder if they could be larks. 'The sweet silver song of a lark," a lyric from Carousel, prompted a bout of singing until I saw what could only be the Black Hills on the horizon. They are, from a distance, literally black.
Pulled off and down into Deadwood, South Dakota, which is about history and gambling, appropriately enough. Tourists are already walking the old main street, and nobody is wearing masks, not even in a full tour bus.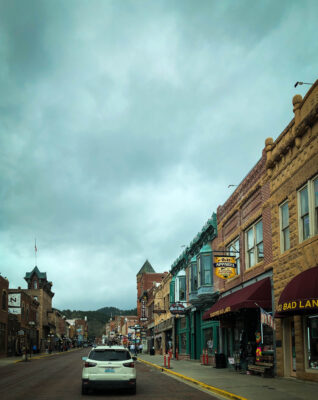 I asked a waitress if the governor had just lifted the mask mandate, like over in Wyoming, and she just looked confused. I said, "You don't have that here?" and she said "Not in a long time." It did indeed seem a distant memory to her, with little import.
Later I realized that South Dakotans have been spared the societal division, the alienation–even amongst family members–that has driven the states I've lived in to anguish and despair. They seem to have simply opted out. I didn't even ask about a vaccine. A pandemic is not happening here.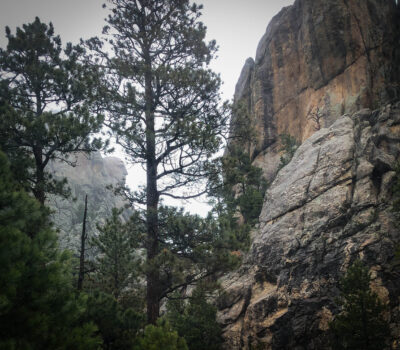 I headed down the middle of the Black Hills' pine forests toward Mt. Rushmore. The clouds were heavy, and it was raining intermittently. As we got up to the highest peak, Black Elk Mountain, the clouds parted and I saw it, black and obscure in the dark grey cloud cover.
Then I saw people in a pullout pointing and staring, so I pulled over and looked back. There was one of the four, and that's all I have for you. Around the corner at the main parking space, it said parking ten bucks, for the 'concession area,' and the cloud cover was total. Forget that.
Next, Badlands National Park. It is the absolute ultimate drive-thru national park. The drive was a blast, with little traffic, and very much enhanced by a dark and scary storm that was approaching from the west. The lands aren't that bad, so the drama was a nice touch.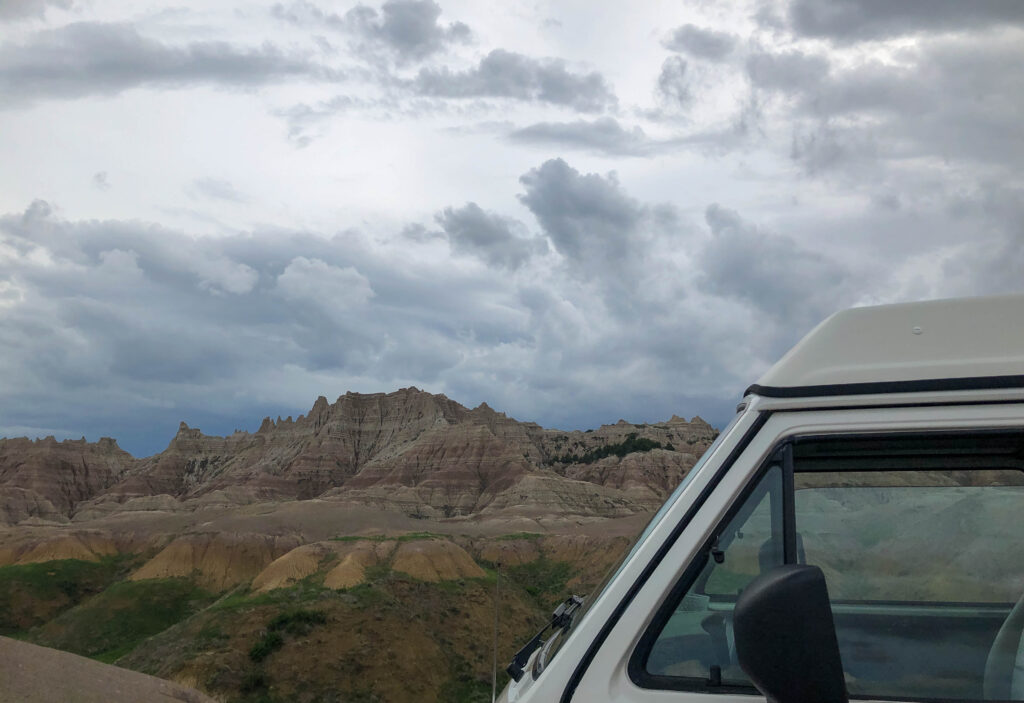 We drove away from that sky until a nice dusk settled. Pulled off near Vivian, South Dakota, got out the computer, and BAM. It became black as midnight in an instant and lightning flashed. I thought about tornados and golfball-sized hailstones. Janet was bouncing up and down, rain hit, and I kept typing as my computer shook back and forth.
I'm thinking about life on these Great Plains, and wondered what the Sioux did, for example, during a sudden storm. Or when they saw a tornado, before they had horses. They call the Black Hills the Center of All That Is, I read, and I remember reading about a breach of treaty lawsuit they had going to recover them. I hope they do get some of it back. I'm sick of white-bashing, but the Sioux are still here, and I'm sure they need to have their hearts healed, as many of us do. Where I am from the local tribe is all gone, they all died. So that difficulty is easy for me to talk about. It would not be easy, and the whites here are very patriotic. I don't know how they feel about the Sioux, but they didn't mind using them for tourist purposes based on the businesses I saw. These plains make tough, freedom-loving cultures, that much is clear.