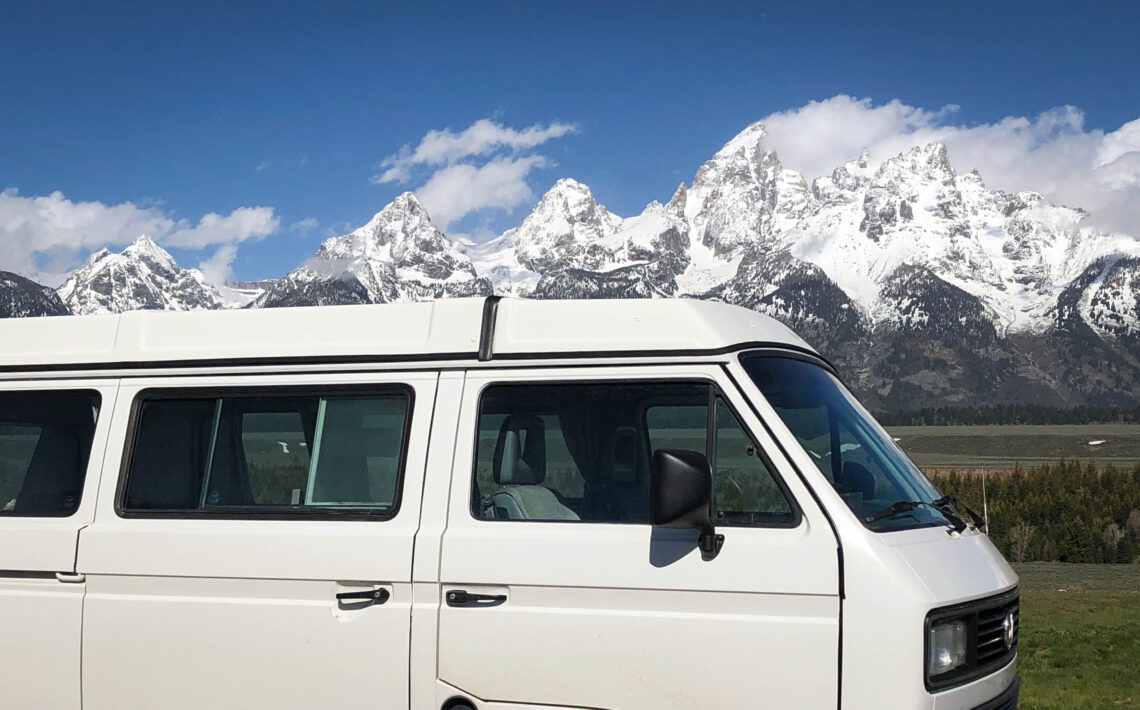 I saw a buffalo playing! And the cowboy mystique is real in Wyoming.
I'd fallen asleep to pelting rain on Janet's little skylight, but woke to blue sky and sunshine! I'm glad I didn't change my route when I was so disappointed in the weather report. I'd really wanted to see the Grand Tetons. When I was a girl I'd seen their photograph on a cheap calendar and thought they were the most exquisitely formed mountains I'd ever seen. So pretty, not just majestic. Et voilà, a French guy named them The Big Tits. And there is Janet looking at them, along with a lot of other drive-by tourists.
They've taken former ranch country and made it fake ranch country by adding fake split-rail fencing at view places. They tease tourists with watch for wildlife signs. It would have looked just as good–even better–as real working country with an actual culture (or patrimoine as the French call it). And it wouldn't be a ridiculously overrun magnet for people who only shop name-brand sights. There were dozens of cars pulled over in Yellowstone, telephoto lenses as long as my leg ready to take photos of five or six elk lying down by the road. I shudder to imagine how it must be in the summer. Absurd.
I did see a moose up close, and then a buffalo wallowing his heart out ten feet from the asphalt. I suspect the rangers started the wallow there, for our entertainment. I was entertained.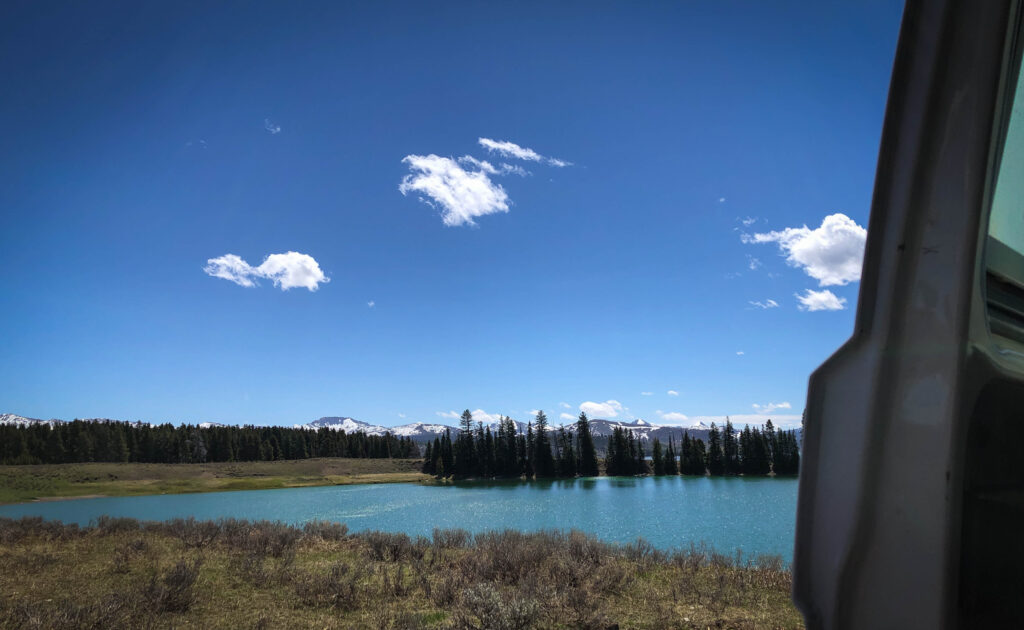 The remaining snow made it all much more beautiful. But I wonder why there were no mosquitos? Picnicked by a turquoise blue lake, and if it had been in the Cascade Lakes area there would have been thick clouds of huge mosquitos. Hopefully they don't blanket spray it, like they do in Manhattan parks. But can't say I missed them, can I?
Then I fortuitously chose a route across Wyoming's Bighorn Mts. The farm country back roads and foothills leading up were all so much lusher than I'd expected.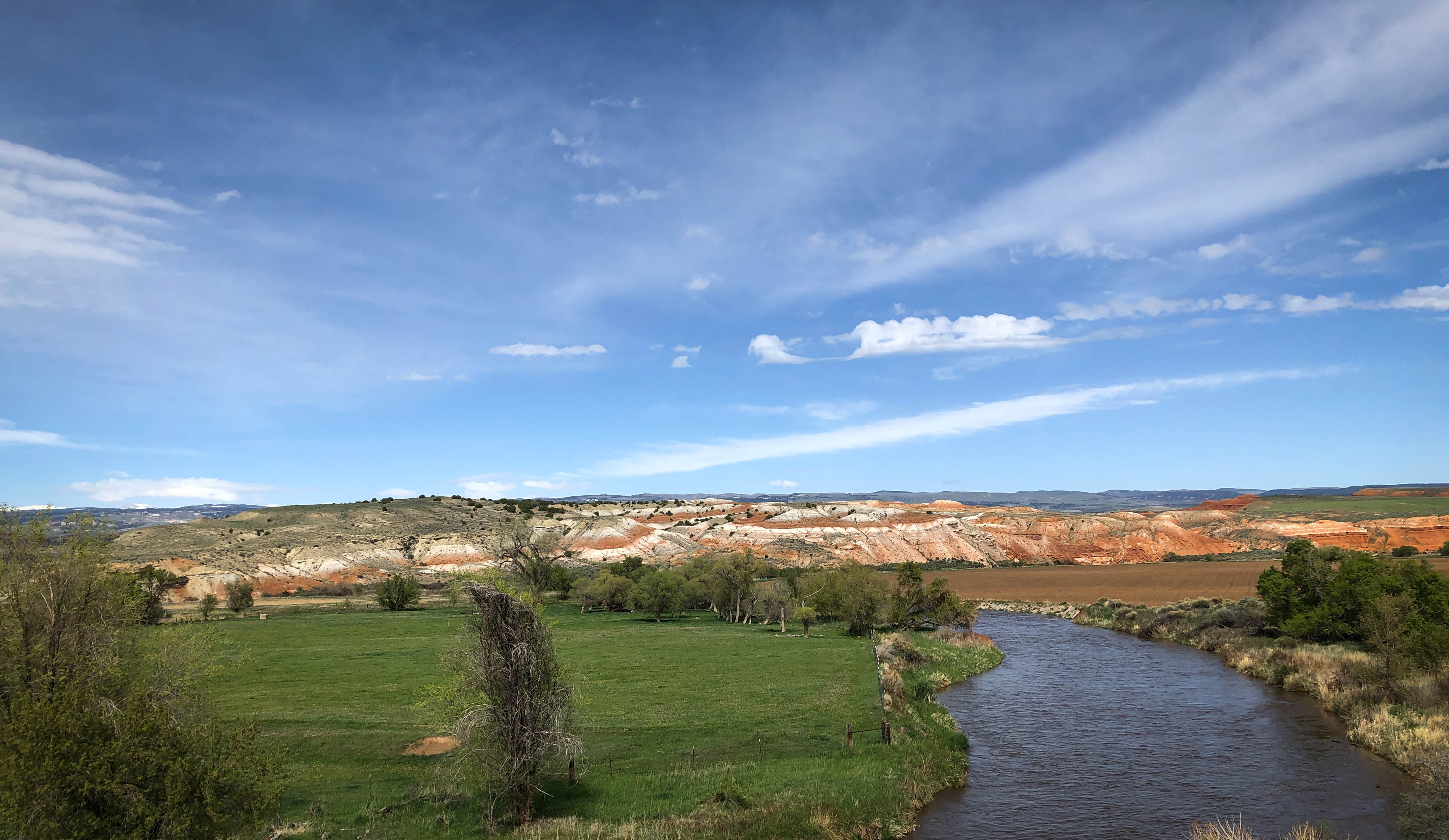 A cutoff from Basin to Ten Sleep is now one of my favorite roads. All ranch country, with orange, and striped white, black, grey-green, cream, taupe, and olive-green bluffs, and lush river bottoms. Unlike around Cody, this part of Wyoming seems to have lots of real cow ponies. There are no dude ranches, and lots of rodeo grounds. The ponies too were splashily colored: grulla, palomino, buckskin, duns, and paints.
After this technicolor ranch/farm country (which near a big city would be all golf courses and hobby ranchettes), we went up Ten Sleep Creek's beautiful little canyon. The places at the bottom were charming, one even had a small apple orchard, just now in bloom. It is an intimate landscape, with lovely details and a human scale. Then up and over the Powder River Pass, in the Bighorns, at 9,666 feet. Janet was superb.
Drove all evening through grasslands dotted with oil wells, and arrived at a rest stop at Moorcraft, Wyoming for the night.