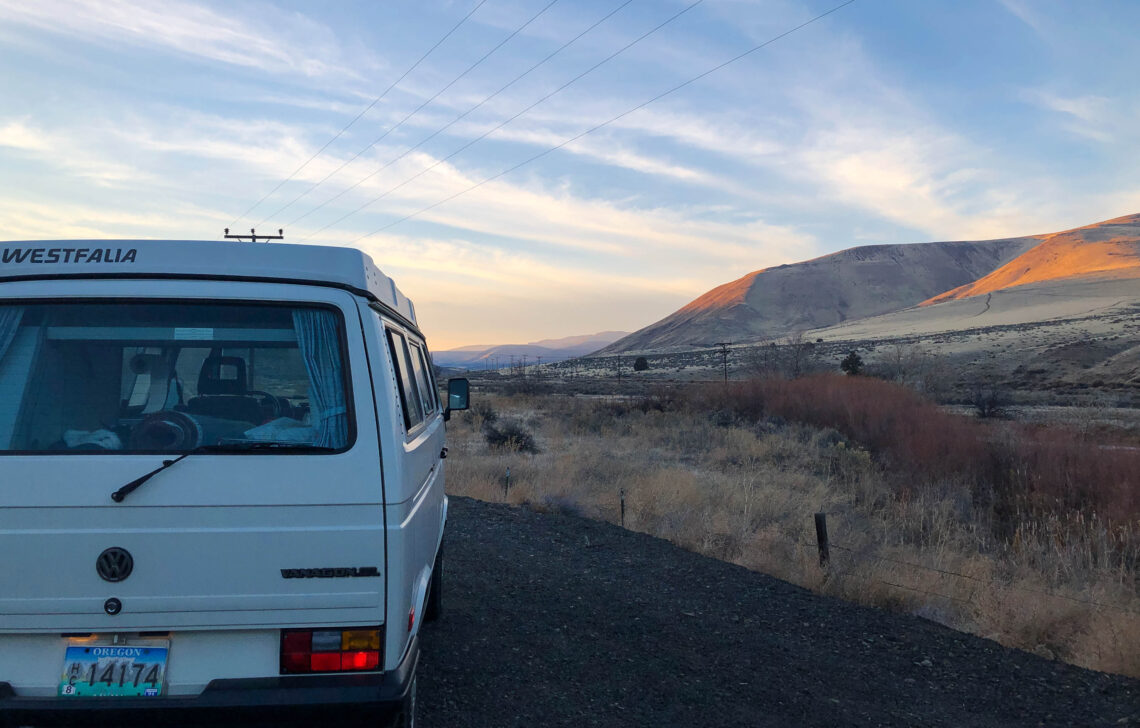 We looked at our last interstate freeway this afternoon. 2 lanes from now on.
But I started the day's travel in the foulest mood I've been in on this trip. The Motel 6 in Ogden had discontinued their coffee because of the covid, and there was no nearby seller of said drug. The urban vibe and mild hysteria did not set well with my caffeine-less state, though otherwise things were fine. Having gotten things regulated as we approached the state line, I decided to stop in Snowville, Utah for more gas station coffee. Then I saw Mollie's Diner and realized that breakfast would not be amiss.
The two women running it, the owner who cooked, and the waitress, ended up talking with me for quite a while about the state of things, and how they cope. They rely on their community and family who work in the area for support, and had stories of Bikers Against Child Abuse, a group who had helped a family member. They seemed ready to face whatever comes next.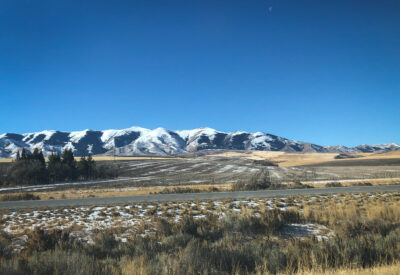 Next was Idaho's Snake River valley on I-84, which passed blessedly smoothly. Then I chose a country back road through some farm towns (no doubt potatoes) and a small crossing of the Snake River into Oregon, at Nyssa. A totally new way for me to enter the state, and possibly the only one I hadn't yet used. I chose it back in New York, while paranoid about the governor's capricious edicts, and possible checkpoints and quarantines. None of these scary visions came true on this trip, including the one where jobless and homeless people make every camping spot impossible, because the local law is on high alert. Saw nothing like that.
We drove through a part of the Ochoco Mountains as the sun set. Every little valley has a ranch with hay fields. When I stopped to take a photo, the frozen river was smoking, and I saw a bunch of little hot springs puffing steam up all around us! Driving on, we plunged into thick fog that began freezing on the road and Janet's windshield as it got dark. Coming into Burns, Oregon after an hour of 50 ft. visibility, and deer deciding not to jump in front of us at the last second, was far more thrilling than I'd imagined. The Silver Spur Motel, a relic from the 1950s, had a fire blazing in the lobby, and Christmas lights over the entrance. Hallelujah.
This is still the Intermountain West, and not the Oregon people think of when they hear about Portland or hippies or Nike. It has been 30 years since I last drove this road, and it hasn't changed much. Tonight in my pine-paneled little old room, (with coffee) that is just really, really fine with me.