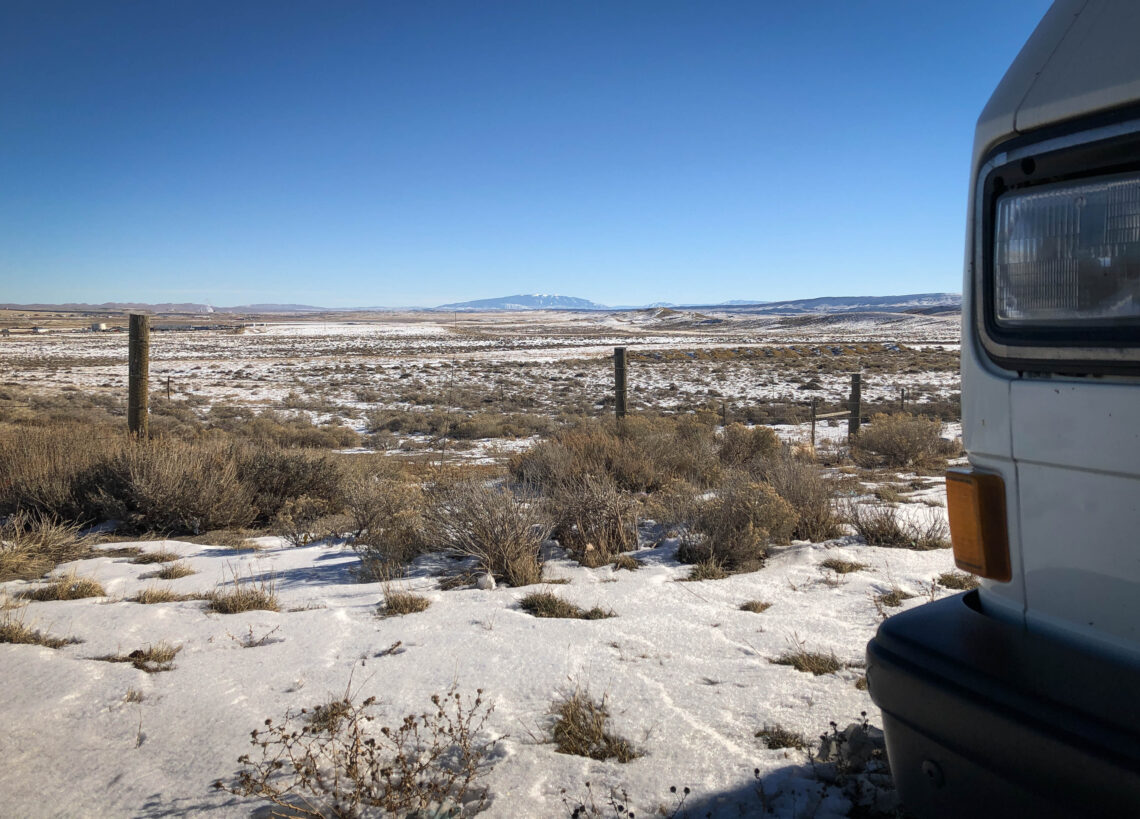 This is a bigger part of the country than I remembered.
I always had the idea the Great Plains took up most of the land area of the U.S., but no. I spent almost all day just in Wyoming. After Cheyenne, I saw pronghorn and the first sagebrush, and noticed that the Laramie River was frozen over. I sang "Home On the Range," though the deer were roadkill and the antelope were closer to loitering rather than playing. I-80 here is possibly the dullest stretch of interstate in the entire country, however. I don't get bored easily on the road, but for some reason it's awful. The headwind blowing west to east prolongs the tedium.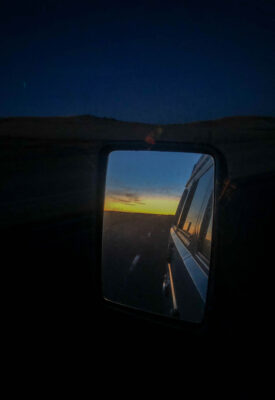 Up and on the road early, and drove through the dark plains of western Nebraska as the sun rose behind us. Venus was bright and singular off to my left. At a gas station a sign said 'Amazing Bathrooms.' I bought coffee and went in one. Though I've spent time in France, today in Sidney, Nebraska I experienced my first bidet. It was amazing. I told the cashier so as I left, but I don't think she'd ever even read the sign.
After I-80 enters Utah, it drops down and twists through a striking canyon. It's a geologist's grab-bag. Every kind of rock, orange sandstone, yellow, red, greenish, spongy and eroded, hard and jagged, slabs of pale grey standing vertical, all mixed together. Silver dots of sagebrush and little dark pines sprinkled over made for quite a crazy confection. Around corner after corner it kept changing. At the bottom was a river, also frozen. I considered this in the evening light, and thought a motel might be good.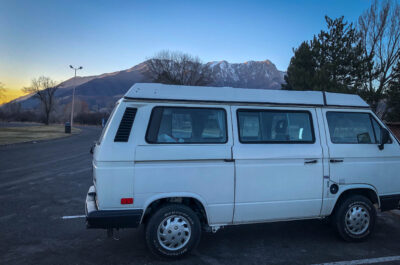 Finally, I decided that on my deathbed I will not bemoan the $47 plus tax I spent tonight after ten hours on the road. I know I am tough enough to do it, so why prove it? It will be ten degrees colder tonight than the previous, below freezing nights. Part of me wants to see what it would be like, but I'm already at a desk in this room in Ogden, Utah. When I told the clean cut young clerk holding out a mask that I'd rather not wear one, he said, "Well, ok. They're getting kind of old."