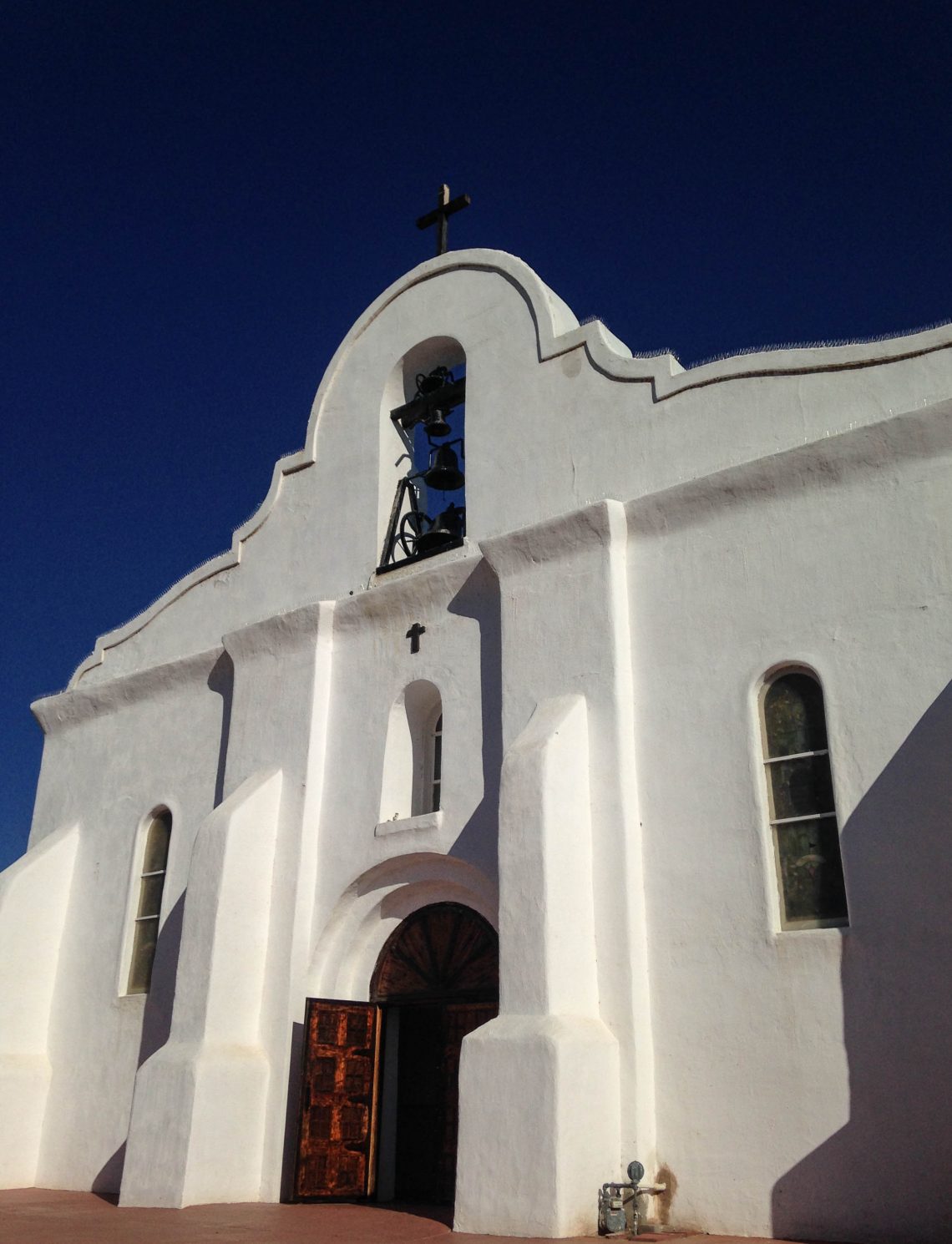 The Land of Enchantment stretches down the Rio Grande a little bit into Texas.
That is what a woman at the museum in Columbus, New Mexico told me. I am in Van Horn, Texas now, but yesterday I had been asking her if I had been imagining the calm I noticed in New Mexico. It's possible that the 10 hours I slept at the unnaturally quiet Lordsburg, NM truck stop had something to do with it. That was a small miracle. However, I've noticed it before, on my earlier adventure with Janet, in northern New Mexico. It's the only place in the U.S. I've been besides New York City, where I have quite often felt a spirit of coexistence, a lessening of tension, guilt or hostility about race, whether I was in the majority or in the minority. I don't know why, and the woman at the museum couldn't really explain it, but three cultures have been sharing space there for a very long time.
It was a biker couple standing out in front of the truck stop for a smoke who sent me down to the border again. The man said, with a smile, that there was an exhibit on Pancho Villa with an interesting perspective. I'd heard the name, of course, but when he talked about General Pershing and the situation during WWI, I decided why not? I've been taking an interest in World War I lately. Turns out, his invasion of Columbus, NM has a very complicated backstory, full of high-level global politics and unanswered questions.
The woman at the museum highly recommended I go to The Pink Store, and said I should just park and walk over, because the traffic will be terrible coming back. After a minute of confusion, I said 'Is it in Mexico?' Well, yeah. She said both sides go back and forth all the time, and enjoy it. I have yet to see even a hint of the terror and desperation I associate with the Mexican border, from news reports, but I had to skip it.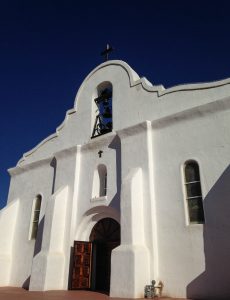 Once in Texas, I could see the banks of the Rio Grande from the interstate, and it looked so deep green and peaceful, I turned off and discovered that I was on an old Camino Real, a mission trail from Spanish settlers. At San Elizario, tucked back in between miles of pecan orchards, I found an old settlement. It was Sunday, the church was open, but nobody was around. An inside door gave way, I furtively stepped in, and jumped when I found someone on my immediate right. It was an angel, holding a scallop shell full of holy water. I am not used to religious statuary.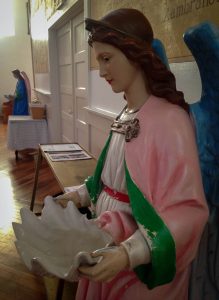 I walked toward the altar, but was drawn to the side where up high the Virgin looked like the Queen of Heaven, with her halo of stars. These stars were white lights. The only lights in the place, glowing in the dim niche. She was very lovely, and made so that it seemed she was looking at me in a kind and tender way. To me, religious imagery has never seemed benign, not to mention so soft and benevolent.
And I did it: as a stranger I asked her for blessings on my travels. For a brief instant deep in my body I felt a sense of timeless power. I was unsettled, but impressed. I don't care if it was divine or not, I can say for sure it felt very, very human.