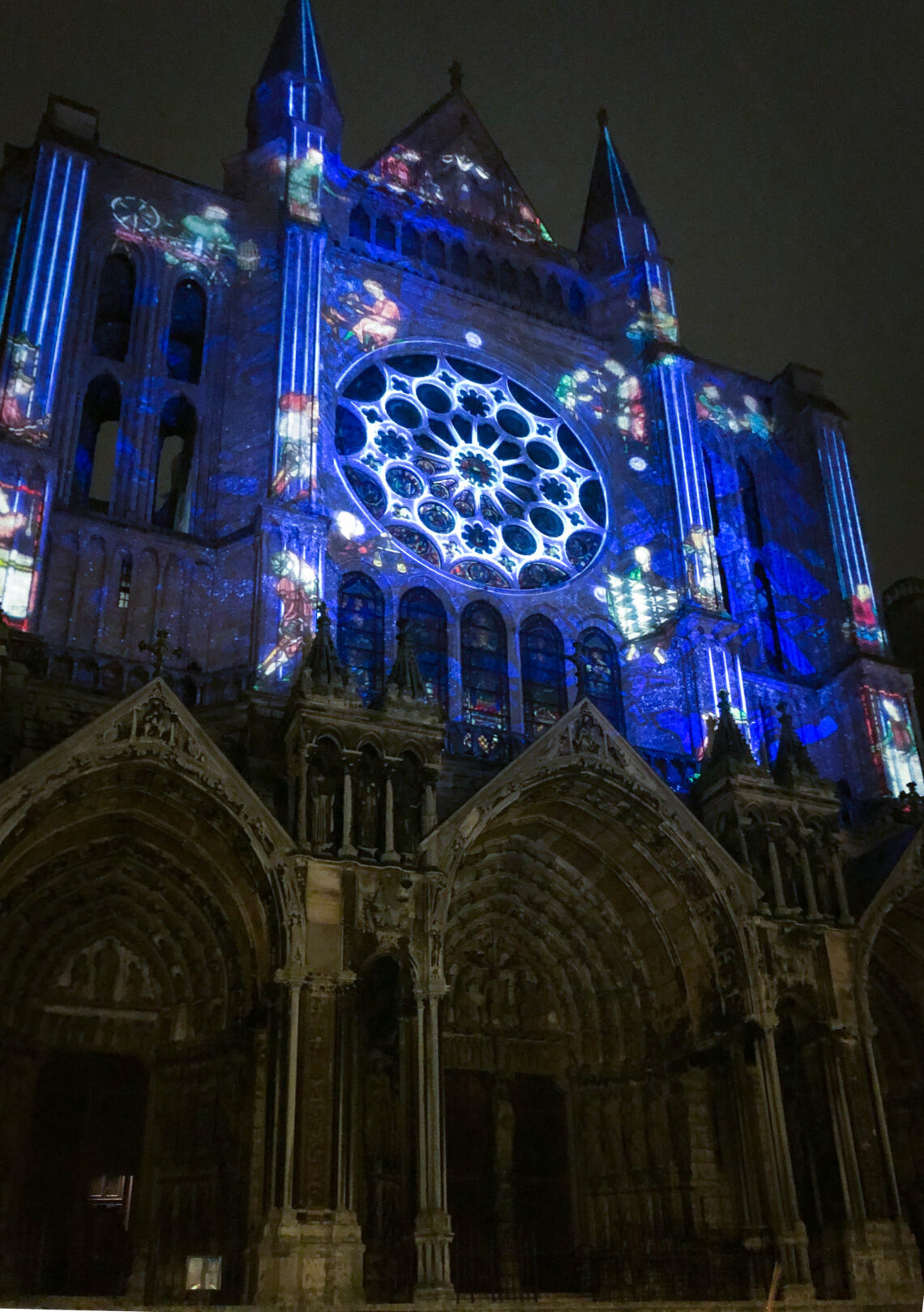 Chartres cathedral doesn't cast the spell it once did, it seems.
Walking back from dinner I was taken aback that the glory of the Almighty needs a cheap boost from modern wizardry. The church's power to hypnotize has faded. But it is clear that this building was modern wizardry in its day. The sacred geometry, the sacred numbers, the mysteries of masonry, the sheer height of it–thanks to the new invention of flying buttresses–were the definitive statement that Christian civilization was solidified into a new, dominant order, eight hundred years ago. By Christian civilization I mean the governance of trade, the control of the monetary system, thorough record keeping and inventorying, the anointing of kings, and everything else required to create and consolidate wealth. And the power that goes with it. The bishops declared the grounds a 'free-market zone' to keep the money flowing in the Middle Ages. Had they read the Bible?
I'll get this out now, I'm done with visiting cathedrals. This has been a place of pilgrimage since it was downgraded from official uses like crowning and burying kings. Aside from pious Catholics, New Age seekers of pagan goddesses and labyrinths come to the site and think about Druid's groves and wells, or Roman temples. And this is the fifth church on the site, they say, the first being nine hundred years before this version. But all I felt was mossy, crumbling, overbearing power freakery that was forced on the people. I know, Martin Luther beat me to the observation, and seeing the cathedral in basically its original context gave me a real idea of how ironically lacking in humility it seems.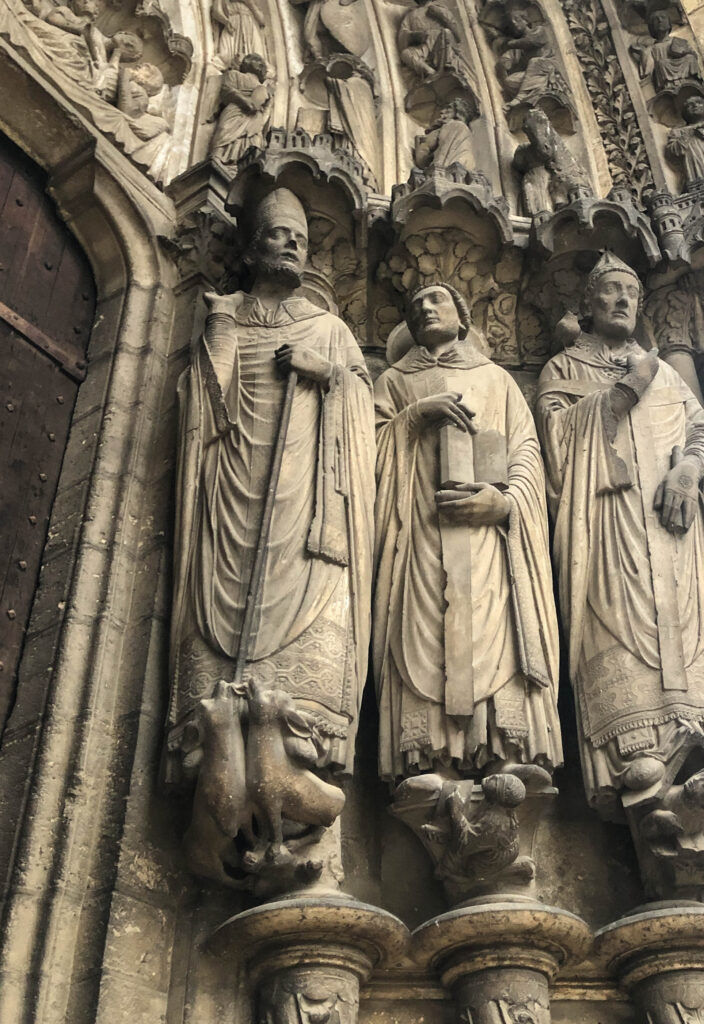 For architecture and history, it's a good visit, and my lodgings are right near the cathedral in what turned out to be a seminary hostel. It was the price of a Motel 6 and has free parking way up here in the old city, and when I walked into my small, austere cell, I laughed, and figured out that hôtellerie and hôtel are not the same thing. But it is very warm and cozy and quiet, and the bathroom is fabulously new. I can see a convent and the spires of the cathedral from my window, which I enjoyed as this morning dawned clear and crisp.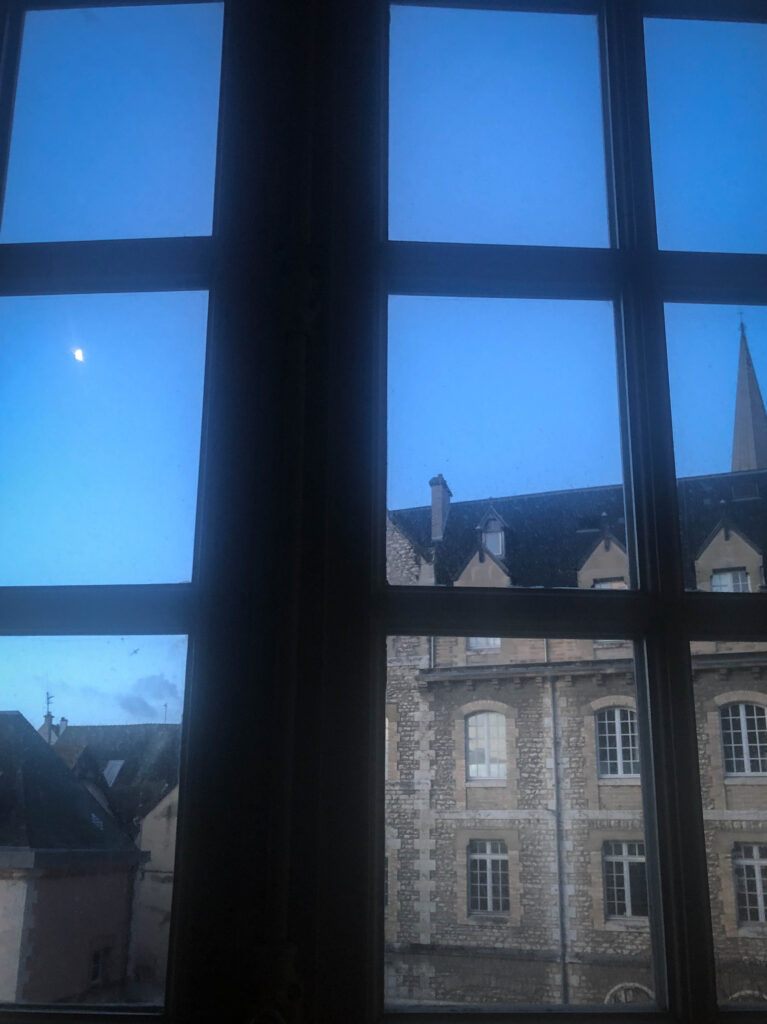 A bird woke me first, with a long complicated song it would repeat, loudly, alternating it with a variation. I've never heard anything like it, but then the cathedral bells started clanging and banging, and drowned it out. By then I think they were calling the people to mass, as today is Sunday. When I finally opened my big wooden shutters, it was later than I'd thought.
It was laundry day, and there was one quite nearby, though without street signs, I asked an elderly gentleman who directed me to the first left, which I almost missed.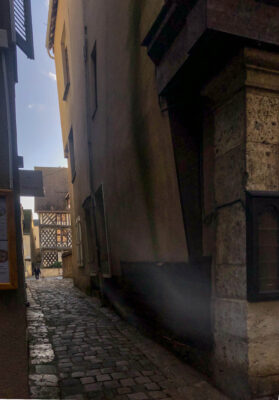 I went to a nice lunch after the clothes were in, then back to dry them. An interesting thing I'm noticing is that you acknowledge total strangers if you are in the same spot alone. A man was in there who said both "Bonjour" and "Au revoir" to me when he left, though nothing in between.  French people ignore strangers in any other situation. I've noticed this before. I have never felt the need to acknowledge someone in a laundromat or public space, but maybe it is polite if you are the only ones in there. It felt kind of sweet. I like this business of having manners.
Later I took a stroll down to the river Eure, which flows alongside the hill that makes the cathedral visible for miles around. There is a little island and little bridges, and I saw a sign on one house being heavily renovated that described free assistance from the city of Chartres. They know how their bread is buttered. It looks like it would be nice in the warm months, but probably packed with people.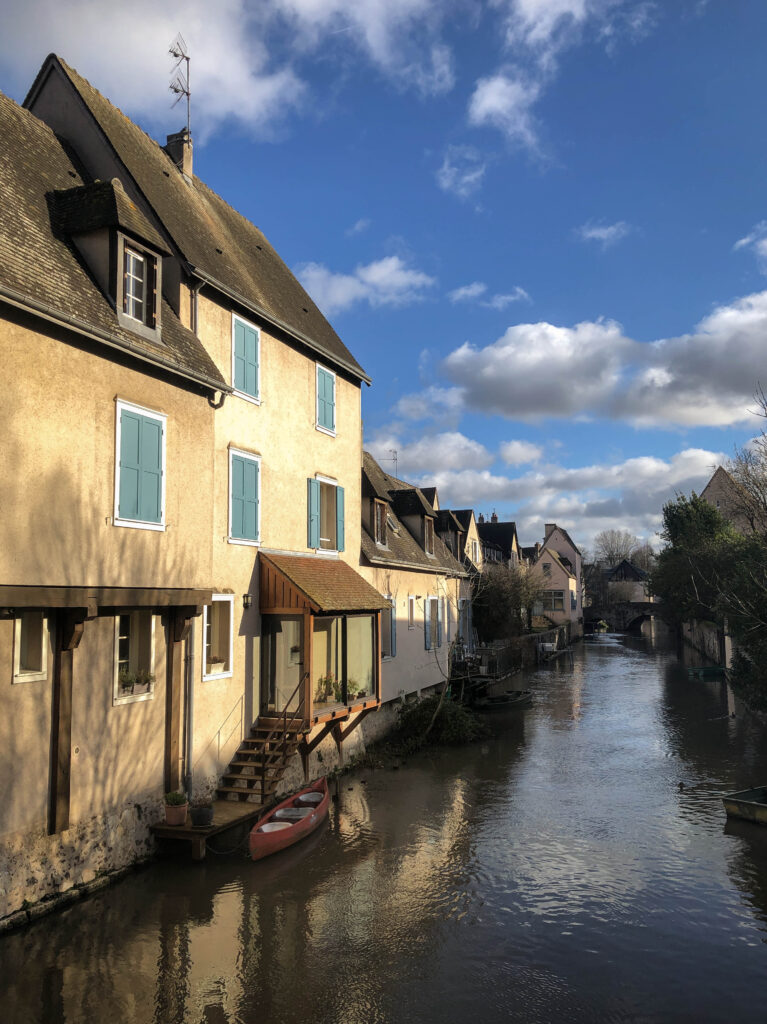 Getting to enter the old town in a car and drive up these streets was a bit thrilling, especially since I got to ring a buzzer and tell the police I was staying at this hostel and they lowered a post blocking the road so I could drive up there near the top. Merci beaucoup! And this time I don't have to lug my stuff for blocks tomorrow. And Ms. Google Maps did a good job all the way. I admit to screaming at her once. She just cannot handle the layout here sometimes. Hopefully tomorrow she won't get confused, because Greta and I are off to Paris, where we will say goodbye.