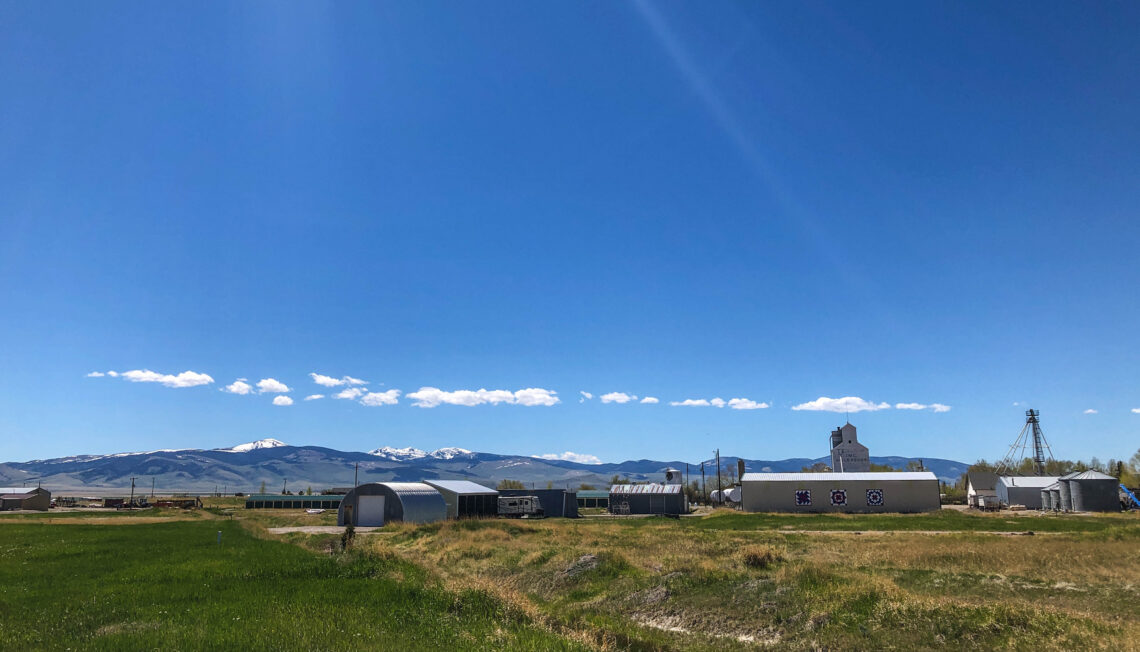 The map seemed to show a lot of charming valleys amongst little mountain ranges.
Awoke at a rest stop outside of Laurel, Montana, right after getting our first view of the Rocky Mountains, the Beartooth Range. The weather was beautiful, calm and clear, and it was past time for some truckstop yoga. I was performing 'corpse pose' when an old trucker walked by and said "Looks like you about got run over."
Thus revived, we abandoned the interstate for The Crazy Mountains, Castle Mountains, Big Belt Mountains, and Little Belt Mountains. Charming isn't the word for it, as shown above at White Sulfur Springs. The land is BIG. The mountains are big and blunt, the prairie and bluffs between the ranges are wide and sweeping. We saw ranches and pine trees, some antelope on the high plains and Mule deer in the creek bottoms.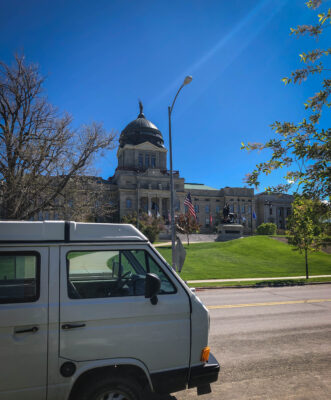 Huge slag piles from lead mining welcomed us to the Helena area, and then we crossed the interstate and into the state capitol itself. Set out looking for a laundromat, as I'm officially out of panties. We found the rather somber-looking capitol building first, and stopped so Janet could salute the state legislature. I don't know what is going on here, but was surprised to find that in tiny Helena there is a branch of the Minneapolis Federal Reserve. Minerals seem to have been, and still are, the business of Montana.
This led to an older neighborhood where there was a laundromat, and less courageous people still, inexplicably, wearing masks. But it was cozy, and I read a little newspaper with a cover story about that very slag heap we'd passed. Still fighting over the cleanup.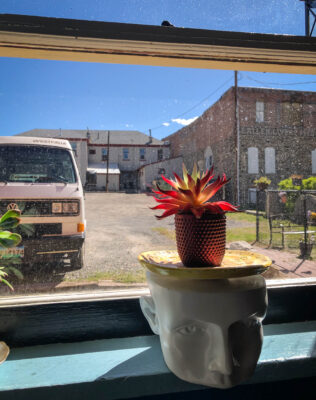 The old man in the quaint corner store did remove his mask to talk to me, and directed us to the Lewis & Clark County Fairgrounds. It was early, so I laid on a blanket at the edge of a beautiful little grove of aspen trees, watched their leaves glittering and swiveling in the breeze, and then finished my book.
Janet's top gets to be popped again, and I'm sitting amongst all my clean laundry, hanging to dry in this very clear mountain air.