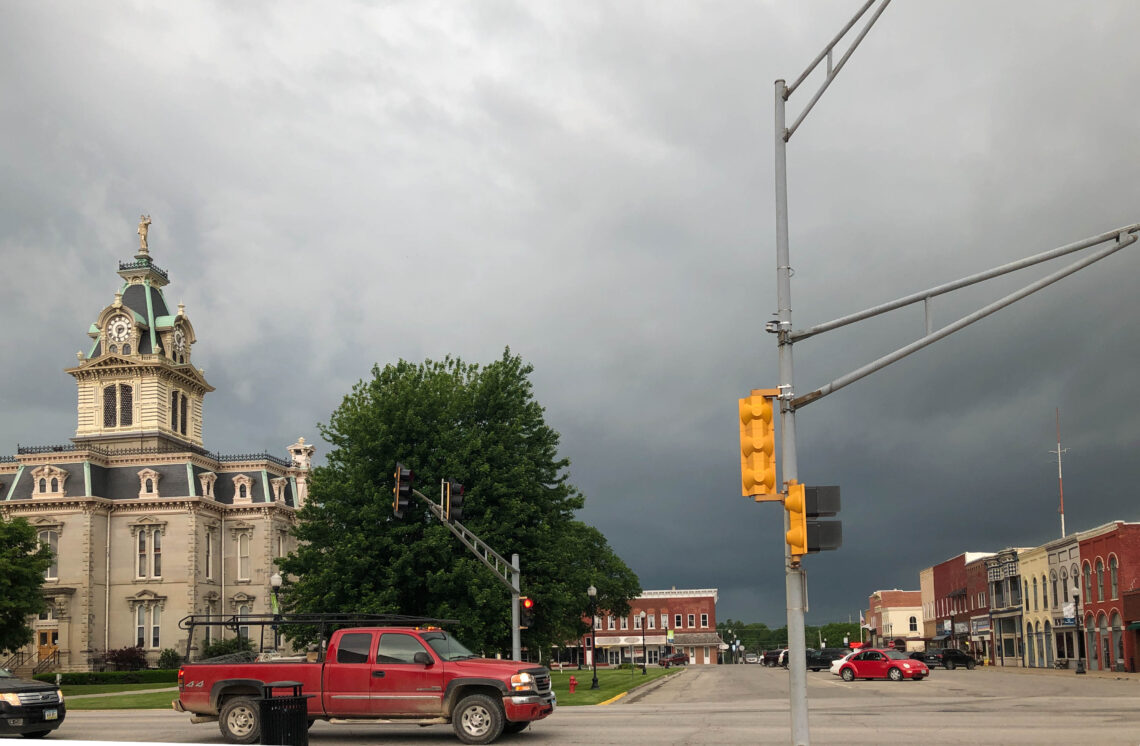 Iowans seem to place a lot of importance on their counties, rather than burgeoning city-states.

As far as I've seen, Bloomfield is one of the more quaint administrative centers. And, the time I had with the women from the Davis County Genealogical Society was friendly and fruitful.
I came away with old family letters, in both German and English, maps of cemeteries, and other documents. I have the location of all the people I couldn't find the last time I came through here ten years ago. It feels nice to think I have acquaintances in this place. Years ago I sent them a stack of 19th century portraits from a local photographer's studio that I'd found in my grandmother's things. We spent about three hours together. I am going to visit three of these cemeteries today.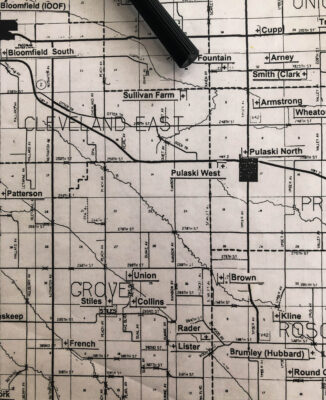 The morning was Bird Insanity! My first night with Janet's new poptop with the snazzy new side windows let me awaken to trees and breeze and birdsong right next to my head! I luxuriated a bit in my upper bunk bed, with proper sheets, then got up and caught up on chores. I tried yoga on the grass in my private meadow in the bend in the creek. It felt great, as long as I kept stopping worries that campers thought I was being weird and wasting time.
It is not a waste of time. Today is a week since I left, and I've driven 2,353 miles. I'd "normally" be on pain relief, I think. The people here, my people in a sense, need to be led out of the chemical trap they are in. I feel they are being poisoned, and in turn are poisoning the land. Last night, here in the middle of farm fields, I smelled a chemical smell all night. This is the ugly side of all the beautiful working land I've seen. The restaurant where I ate last night was packed full, and the amount of morbid obesity shocked me. It was mostly the men, who now fight for their farms by sitting all day in the huge equipment they need to run them. Then they eat the processed food that comes out of places like the Cargill plant I passed yesterday. This must stop. They can go ahead and watch me take care of myself. I've always fed my loved ones well, so why not lead by just being myself? I must move past being afraid.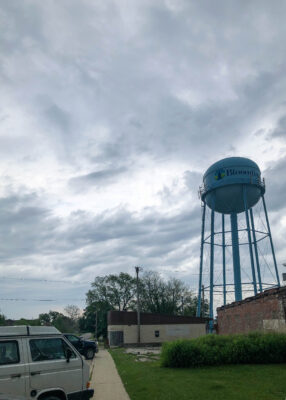 And that leads me to an incident I am ashamed to report. When I entered the Bloomfield library, a nervous older woman wearing a paper mask immediately said "Do you have a mask?" I shook my head, and she said "Are you vaccinated?" and I, with no hesitation, said peremptorily "Yeah." Put to the test, I lied. She continued to be very nervous, and very nice to me. I was very nice and very nervous as well. Fortunately one of the women texted me then to say I was in the wrong building. Chagrined, I pondered my failure, and then a reasonable thought came: she had no business playing cop, and I don't care if I violated the trust of someone like that. Maybe I should care, because I'm sure she was thinking she was doing the right thing. Maybe it was the right thing, maybe I'm wrong. But then why was she so nervous?