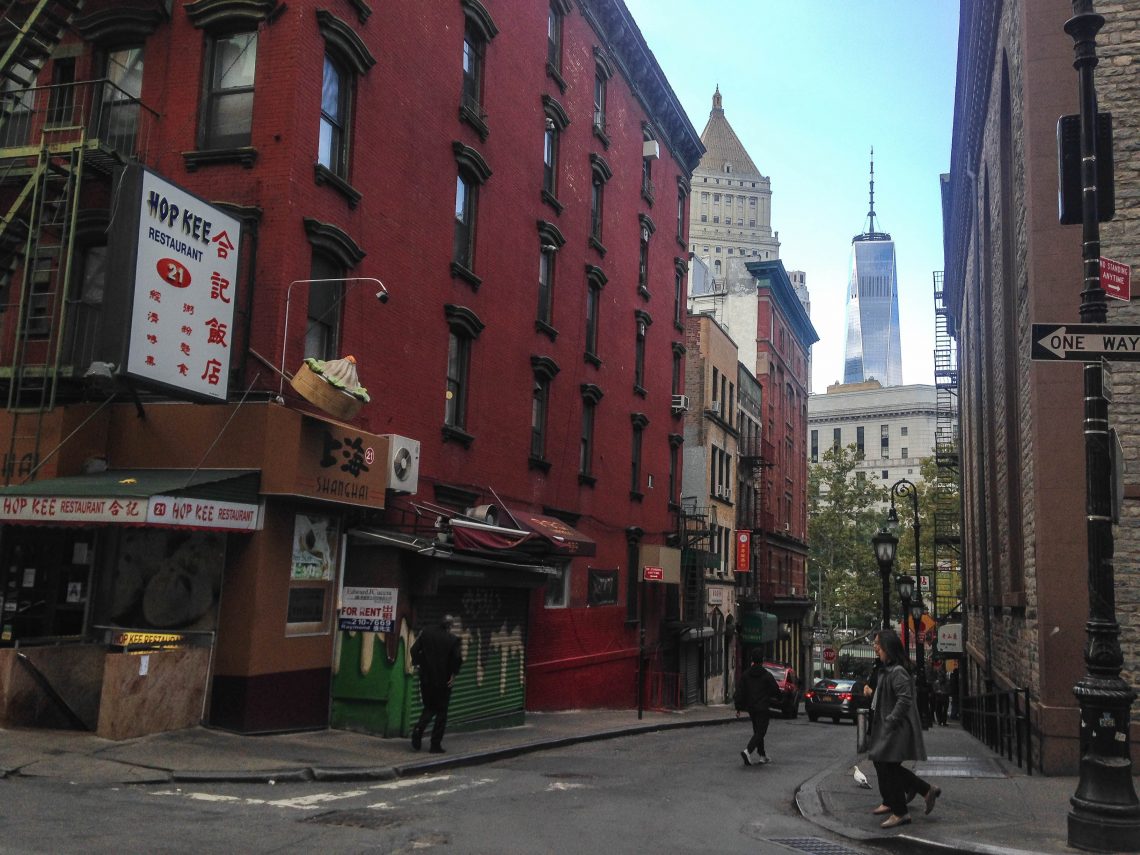 It felt like this time with Janet was solitary and unproductive, but it isn't either one.

I've now spent almost as much time living in her at this airfield as I did on my whole drive across the country. And yet I've gone out Long Island to get her propane fixed, signed a lease, shopped for groceries in far Rockaway, Flatbush, and Hempstead, done laundry in Sheepshead Bay, had a job interview in the Upper West Side, gone on a history walk in Lower Manhattan, taken two of the new NYC Ferries, gone to dinner with fellow campers here, and visited my doctor in Chinatown. He recommended the restaurant on the left in the photo. I still get a thrill going down into an underground restaurant in Chinatown; it has a certain mysterious feel.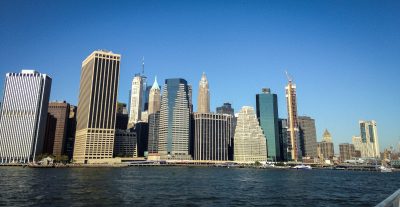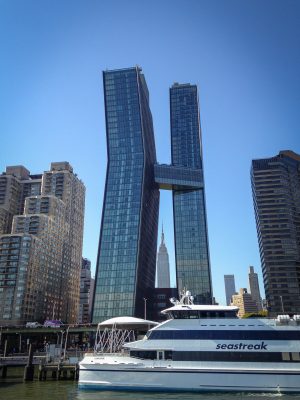 A few days ago, when the weather looked most cooperative, I took the ferry from the Rockaways all the way around Brooklyn, to the Wall Street terminal in Manhattan. I'm used to car ferries, but this was passenger-only, and a catamaran! After we cleared the dock, it picked up and flew! Breezing by Coney Island, and up through the Verrazano Narrows was thrilling. We stopped at the Brooklyn waterfront, passed Governor's Island in New York Harbor, pulled in at the South Street Seaport, where I transferred to a ferry up the East River, under all those famous bridges, past Roosevelt Island to Astoria–for less than three bucks! Then I explored Astoria and took the subway back.
Challenging as life in a van down by the bay is, I have a hunch I will miss this phase of our adventure a little bit. I don't know when I'll spend so much time in this little haven again, if ever. The sky and its changing clouds and luminaries are a constant presence, and the birds usher them in and bid them goodnight every day. Two crows and I watched the sunrise, and later, at dusk, I watched the moonrise shine silver over the water and the gleaming strip of city on the far side, facing the setting sun. It made me think of the line in 'Topaz' by the B52s where they tell of cities by the sea where "blue dolphins are singing." It used to make my little daughter cry.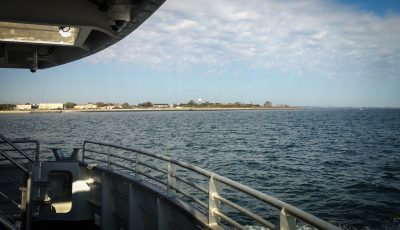 Warmth is here, inside with candle flame and stove flame heating water for coffee. It's also outside, in New York people like the caring young bus driver on the Flatbush/Queens route who honked and waved at another bus driver and told a man that he once told the fellow off, and 'then for some reason, every time we see each other, we always say 'Hello, how are you?'" After the man disembarked, he next worried to me about the insanity of a bicyclist on the road as the light waned, and I wondered if he knew how important his care and engagement really is. As I stepped off at my stop on the open and windswept road, I could see a boat gliding into the little harbor in the very last orange light of the sun. It was almost totally in silhouette except one red running light. That universal symbol for coming home safe, in smooth water, helped me walk the solitary walk back to Janet, waiting alone in the vast dark to take me back to our campsite.