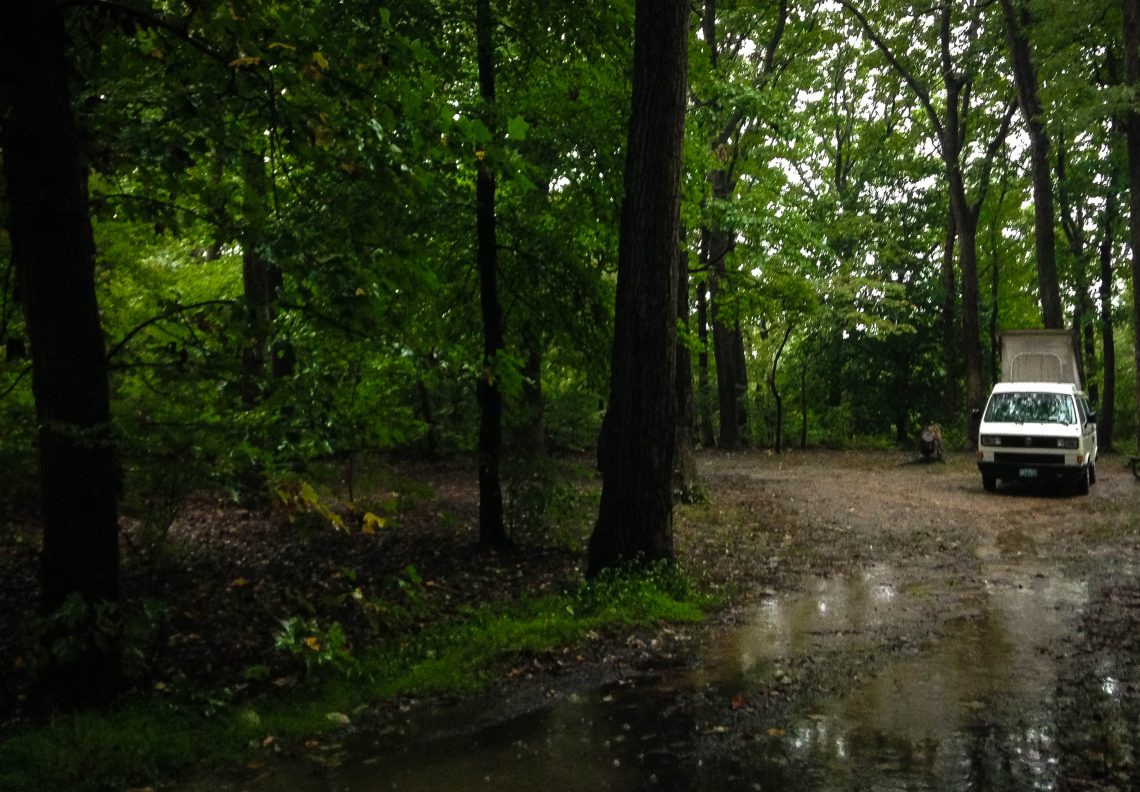 In this case it literally did come après nous. To New Jersey.

All I could think of was drying out Janet's pop top. If I fold it down wet, it will mildew, and it was soaked after two days of rain in Maryland. Reports looked a little better further north, and forced to overcome my reluctance to plunge into all the questions that will face me when I have to stop driving and deal with The City, we headed north.
And it was fairly nice at this state park in New Jersey with the colorful name of Cheesequake. It is cheap, clean, and skies were fair. And then in the night the rain came. Again. We woke up to a dark, very wet morning, with Janet and I sitting in this tree shrouded puddle next to a marsh, next to the humming and booming Garden State Parkway. You can get a train five minutes from here that goes straight to Penn Station. Staten Island is just across an inlet. I don't know what I expected, but this is certainly a new way for me to edge into New York City.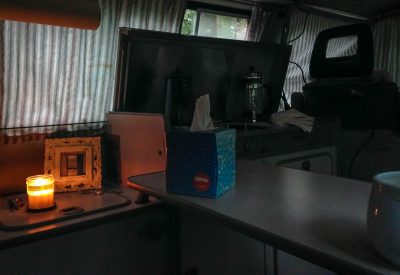 Then I had the brilliant idea to have my 'Sunday' coffee routine. This is where I make two cups, of slightly less strength, instead of one super strong one, so that I can have more time to sit and let my mind and emotions wander. It is Tuesday, but that is no matter. I haven't done the Sunday routine once on this trip. It was so dark, I lit a candle, to save Janet's battery, which has gone low a couple of times on the trip. I read a little, mused a little, and feeling fortified, decided to go clean up.
I had the thought that I wanted to find my Q-Tips, and clean out my ears. I do this a lot in 'normal' life, and have been letting it go on this trip, mostly because I had put a lot of my toiletries in different places and didn't want to dig for them. But today I have all the time in the world. So I pulled out this huge ziploc bag (from a job in Oregon where they used them for urine samples) I'd stuffed full of first aid stuff and small spare things like razors and makeup, and after pulling out the makeup, there was my bag of jewelry. Yes. The diamond.
I haven't mentioned it, but I took this diamond out of the safety deposit box I closed before I left, with the idea I might be ready to sell it in New York. It was in my engagement ring–but you see, I am the one who bought it, as a young college student. I sold my car to pay for it, with the hearty approval of my fiancé/instructor. Yes, I see the symbolism this suggests, I do. But it was so big and pretty! Two days before I left Oregon, I could not find it. I ransacked everything I had several times. I figured that one of the six total strangers who lived in the house where my subleased room had no lock must have seen it and taken it. It felt like the last insult of such a litany I had endured in that town, and it has taken a big effort to deal with the loss on top of my departure preparations.
I've had it all along. Nobody stole it. I am not cursed.
I am celebrating in a motel room tonight, still in New Jersey, still in the rain. I'll edge a little closer tomorrow, after I pop Janet's top in the morning and dry her out!