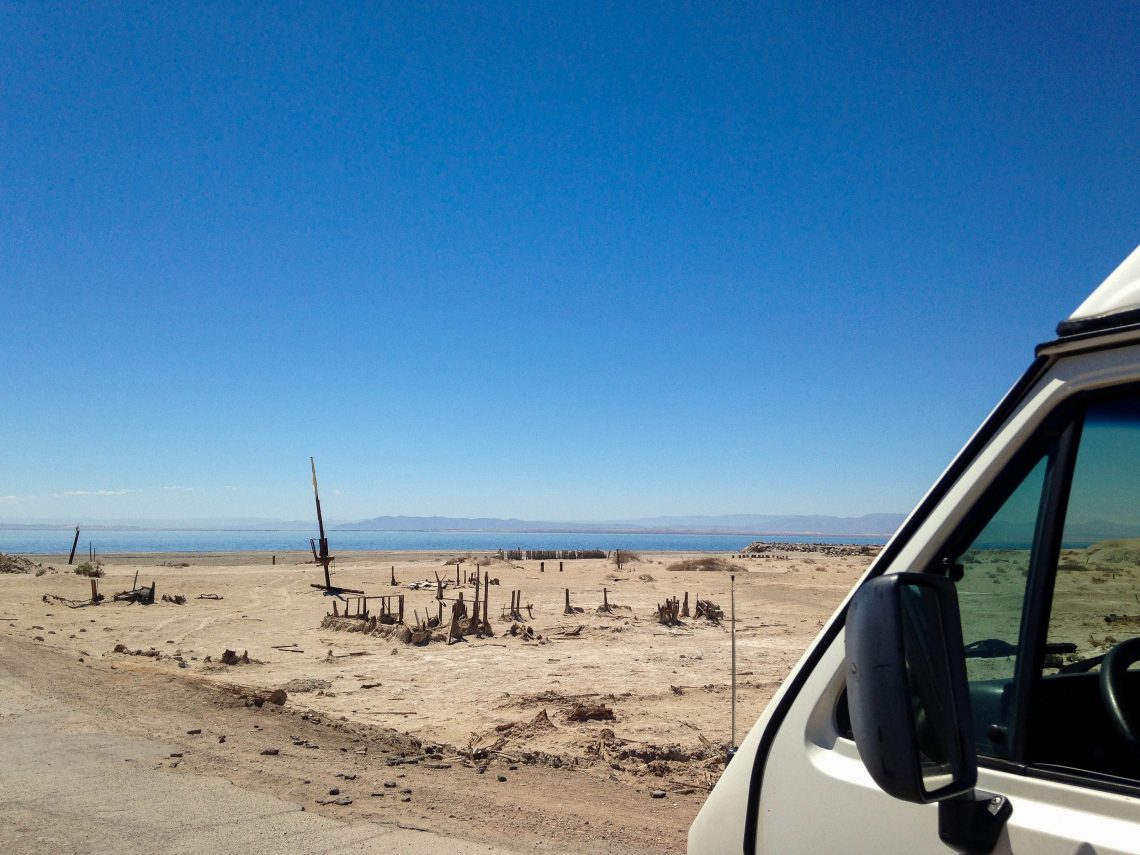 The Salton Sea is always described as a monumental engineer's mistake.
Over a hundred years ago, somebody accidentally diverted all of the Colorado River into a dry basin in California. I thought I might take a look at it. Janet sailed up and out of L.A., and we turned off at Indio. She started to look a little too hot, so I decided to live without the air conditioning, and see what happened. We drove down the east shore on Grapefruit Avenue with the windows open, at about 47 miles an hour. She stayed cool, and I drank warm water and planned to drive until I was brain dead, then look for shade.
I had expected it to look like a dump, but after Mecca, immediately came into gorgeous farmland of date palm orchards, trees, and vines that set off the harsh, pale mountains behind them. Everything was beautifully tended. We passed a white gate crested with some crossed implements before a drive down through tall palms to what I imagined to be a very fancy house. Then the sea became visible. It soon became rather bleak.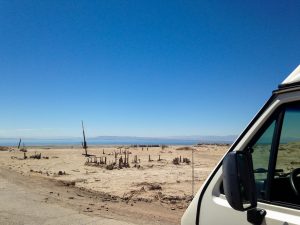 I took a turnoff for a town called Bombay Beach, and the first thing I saw was a mad-looking, deeply tanned, bald white man with fierce blue eyes riding a bicycle toward the road. The town was half deserted and half alive. The occasional car would go down a street, and I saw a couple of pedestrians. Some of the town was ruins, but there were quite a few tended houses, after a fashion. I went up on a levee and looked at the beach, turned Janet around, and scanned the whole town for a tree big enough for shade. We parked on a very silent street and I watched a woman in silver sandals walking toward the sea. Eventually we moved on.
I was thinking about this lake, and looked at a map as I rested. If it was such a mistake, why hadn't the lake/sea dried up long ago? Two rivers drain into it, both starting in Mexico. One flows directly out of the Colorado River, south of the border, the other's source was vague on the map. If it was all just a big mistake, why is one river called the Alamo River, and the other the New River? Maybe an engineer's little joke. Well, I learned as a teller that customers are never amused when you say 'oops' while doing your job.
After the bleak area, more agricultural land went on from there to the Mexican border. It is some of the most beautiful farmland I've ever seen. Lush and green. It's the famous Imperial Valley, after all, our out-of-season produce basket. I drove over the Alamo and New Rivers a couple of times, and they were fast and roiling, like all rivers that move lots of water.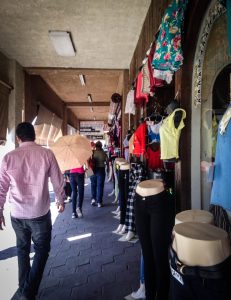 Calexico, California was the end of the road. I parked Janet downtown, and walked around a little. Almost all the signs were in Spanish, and all the streets were full of shops, mostly clothes and shoes, and sensibly lined with shady arcades. There were people everywhere, and the mood was Friday fiesta, with music coming out onto the street through open doors. At the border inspection station, pedestrians were walking out, dressed nicely for maybe a weekend visit from Mexico, some ladies carrying umbrellas like parasols. As I threaded my way back to the highway on residential streets, I was charmed by how clean and nice all the homes were. Not wealthy or fancy, but nicely maintained and comfortable, in the style of many Latino neighborhoods I've seen in Phoenix or L.A. Traffic was backed up at a school where dozens of kids were just getting out. All the boys and girls wore fresh school uniform shirts, and had shiny clean raven hair. There were quite a lot of women waiting on street corners for children, and some directing traffic with handheld stop signs at crosswalks. It was a very lively, happy scene and all the cars waited patiently.
Later, driving east, it occurred to me that I'd just seen an example of the kind of culture I said yesterday I wanted to see. The people I watched didn't seem upset that their lives did not match up with the sort of images I have been besieged with. Maybe some of those kids will aspire to being rich and powerful someday. Maybe one of them will be. If so, and they think back on the upbeat energy of all those women protecting those kids so enthusiastically, I hope they have a 'Rosebud' moment.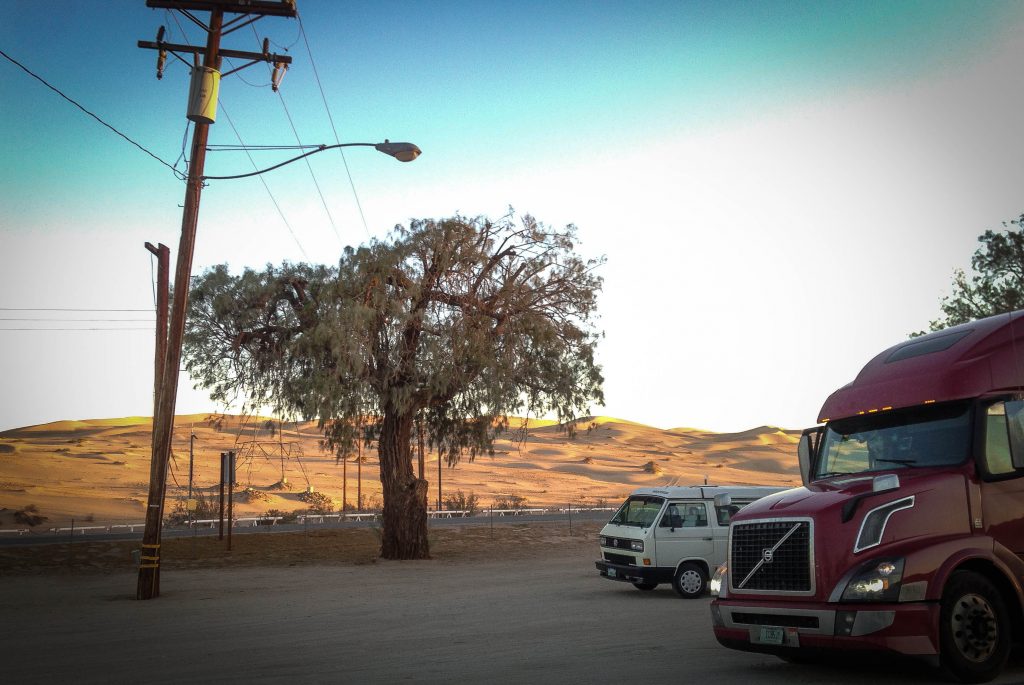 I gave up at a rat-infested rest area off Interstate 8, near the state line. We found shade behind a semi, and waited for sundown. I tried to sleep, but even an hour after dark it was 103 and pools of sweat would form in my eye sockets. It really stings. Janet and I are not made for this kind of environment. Finally, we headed east and drove through black, starlit desert until it was in the 90s and I could turn the air back on. At about 1:00 am we came upon a truck stop in Gila Bend, Arizona. It has showers!